Dreaming of an endless emerald cocoon? Doing a 360 spin in an epic A-frame? We know; it's our happy place, too. Prepare for your fantasies to become reality….
Surfing in Bali has been on the bucket list of serious surfers since the 60s. In 1971, things reached cult proportions with the release of the epic surf film, Morning of the Earth. Over forty years later, surfers planning to hang 10 in Bali are still in for a treat, and a surprise point break or two.
Whether you're looking for mellow swells or pumping barrels and endless green rooms, the Island of Gods has every kind of slab you can imagine and this Bali surfing guide is your manual to everything you need to know.
Why Surf in Bali?
Why is Indonesia surfing so special? Put simply, Bali lies in the sweetest of sweet spots. Exposed to the vast Indian Ocean, the Bali Sea enjoys ground swells whipped up by the roaring 40s. Not up-to-date on your meteorological jargon? The roaring 40s is a latitudinal location in the Southern Hemisphere where big storms and cyclones are born. These occurrences push waves north. The beastly waves that eventually roll into Bali travel a long way and as such, the waves are powerful thanks to 100 per cent clean groundswells and long intervals.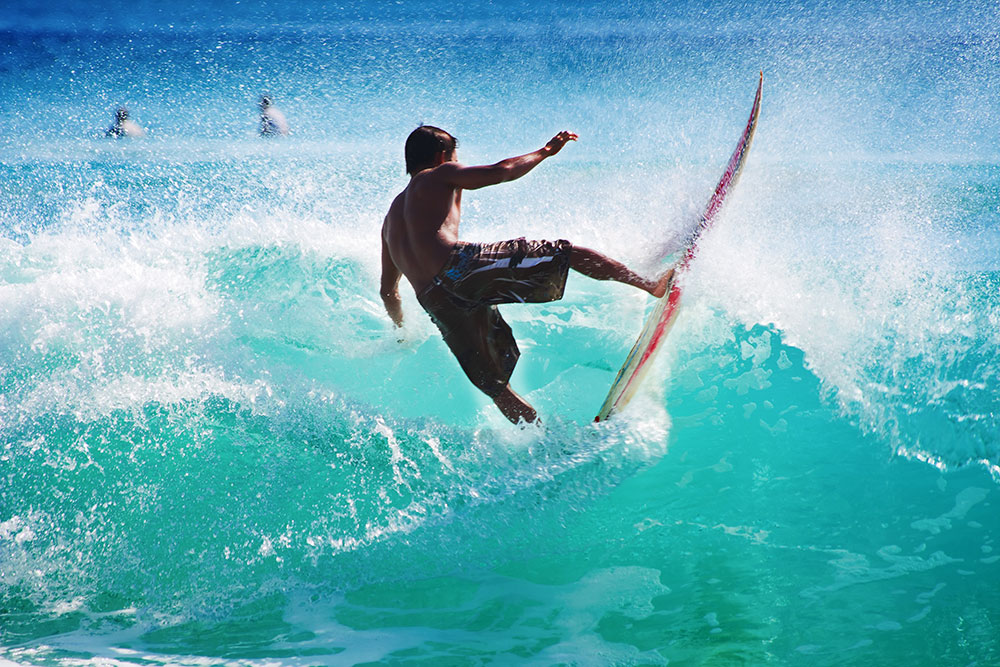 Explore Our Gallery of Extraordinary Trips to Bali and Beyond!
Designer Journeys' network of incredible Local Designers will use their expert knowledge and local insight to plan your dream trip to Bali, Indonesia or any other destination! Simply browse our gallery of fully-customisable trips or design your own from scratch by answering a few simple questions. Your free personalised itinerary will then be on its way to you in a matter of hours!
The Best Time to Surf in Bali
On Season
Bali's dry season runs from April to October and coincides with the 'On' season for surfers. The dry season is characterised by impressive swells and big waves, particularly on the west coast.
Off Season
Waves are harder to come by from November to March. This is the 'Off' season (or Wet Season) when strong winds make prosperous swells are harder to come by. This isn't to say it is impossible to surf during the Off-season. Indeed, many surf spots off the east coast actually started breaking during this time.
Temperatures sit in the mid-30s all year, with water temps not far behind (29°C on average). Blue-sky days are a dime a dozen, although tides and swells change regularly. Monitor the surf reports and tidal calendar for the best conditions at any given spot.
[/vc_column_text][/vc_column][/vc_row]
Planning a Bali Surfing Trip?
Use Designer Journeys to design your ultimate experience, and receive hand-crafted trips built by our trusted Local Designers in Indonesia. Begin your journey today by answering a few simply questions about your budget, desired activities and interests!
The Best Way to Get Around Bali
When you have a board strapped to your back, a scooter (even one equipped with a board rack) isn't the safest transport option. Hire a car or a van to explore as many surf spots as possible. You'll need to update your licence to international status for insurance purposes. Without it, you risk being slapped with an 'unofficial' fine from law authorities.
A daily fee of around $20-$40 will get you a decent car, and if you are travelling with friends, the cost per person becomes very enticing. Manual cars come at even cheaper rates, so be prepared to ride the stick before you ride the waves.
You may not feel comfortable commandeering your own transport on unfamiliar Balinese roads. In this case, a taxi is your next best bet. Hire a driver for the day and negotiate a rate before setting off. If the driver insists on leaving the meter running, you should insist on finding another cab. Alternatively, you can connect with one of our Local Designers in Indonesia to design your Bali surfing trip and you'll be in safe hands.
Most breaks can be paddled to, but to conserve energy it might be a good idea to hire a local fisherman who can ferry you out and back.
Bali Surfing Costs
Well-seasoned surfers like to travel with their own boards, but hiring one is super cheap. Rent by the hour, or per day for better rates (under $10 a day).
The biggest expense for surfers will be accommodation and surf packages or safaris.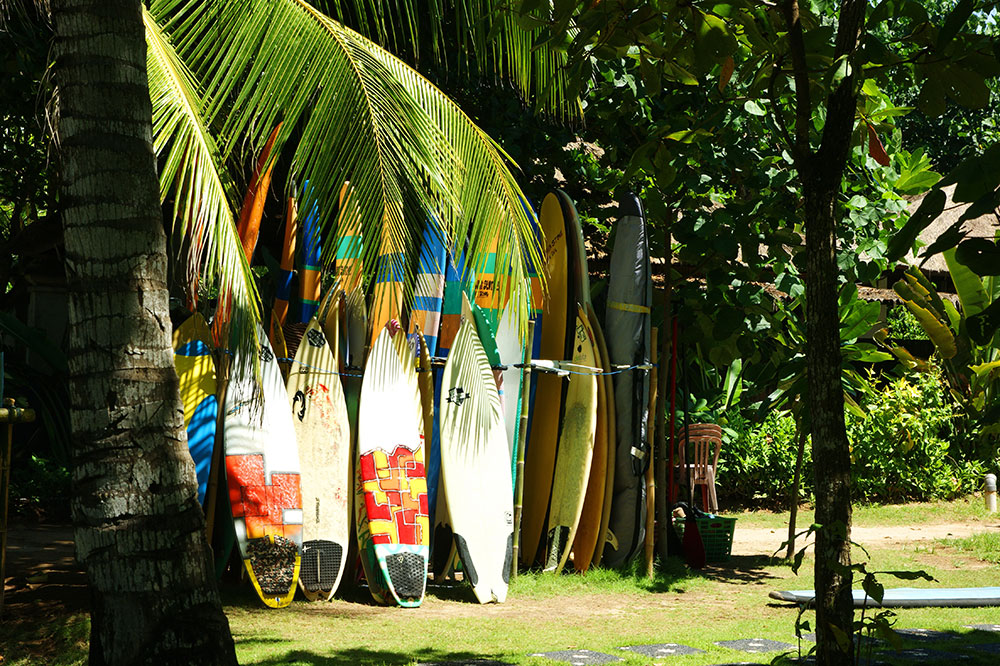 Bali Surfing Camps and Charters
Surf camps and charters will take care of all the logistics of your trip. Plus, they'll feed and house you for the duration of your stay, and provide equipment to boot.
Bali surf charters can be pricey (from $900 per week), but they'll get you on to more waves than any other option. Get a group together for a discounted price.
If you're looking for a unique, local experience, our Local Designers will use their expert knowledge and destination insight to plan your perfect trip.
Dangers and Potential Problems
Most of the best waves break over coral reefs, so suit up accordingly and protect your flesh. Anyone familiar with reef cuts will attest to the value of a decent wetsuit.
BEGINNER TIP: Reef breaks can be dangerous for the uninitiated. If you haven't spent a lot of time on a board, stick to safer beach breaks.
Don't Miss Our Exclusive Offers! Subscribe Today!
For the ultimate travel inspiration, local insight straight from our expert Local Designers and exclusive offers you won't find anywhere else from Designer Journeys, sign up today! Don't miss out.
What to Bring on Your Bali Surfing Trip
Experienced surfers will travel with their own setup, so buying or hiring boards will not factor into your budgeting. However, you should check your airline's policy and fees for oversized luggage.
Remembe to pack light. A few pairs of boardies and shirts will suffice. You can always pick up more for next to nothing in the markets everywhere in Bali.
Boards
Do not expect bargain Bali prices when shopping for a new board. Indonesian boards are among the finest in the world and will set you back around the same as they do at home. We're talking figures pushing the $1000 mark. You could resell a new board before leaving Bali to recoup some of your outlay, but we don't know many surfers who would give up a memorable board for a couple of hundred bucks. Still, the option is there should you need it.
You can pick up a used board for around $100, but they'll need to be thoroughly checked for signs of repair. A previously cracked board, or worse yet, one that has completely snapped and been rejoined, is not going to do you any favours in a monster barrel.
Protect your feet with reef booties (take a few pairs) unless you want nasty coral cuts.
Wax
Bring a few bars of wax from home (wax is pricey in Bali) in case you get caught short at a secluded spot. Hard, tropical wax is best in Indonesia's tropical conditions. 
Fins
Every decent quiver needs appropriate fins. Pack three or four different sets to see what works best at different breaks.
Travel Insurance
Don't surf without insurance. Unlike most tourists who lounge by pools and on the beach, surf tourists are at a higher risk of injury. Make sure your insurance package covers surfing-related injuries and covers the expense of broken boards.
Ready to Design Your Surfing Trip?
Begin your journey by exploring our gallery of incredible tours, connect with one of our Local Designers and get designing your dream trip to Bali or any other of our extraordinary destinations!
Bali Surf Guide: The Top Spots
Barney's bombard the barrels at Kuta and Seminyak, and drop-ins are almost unavoidable. Further south, the Bukit peninsula boasts a handful of Bali's busiest surf breaks. But there are plenty of quiet spots to be explored.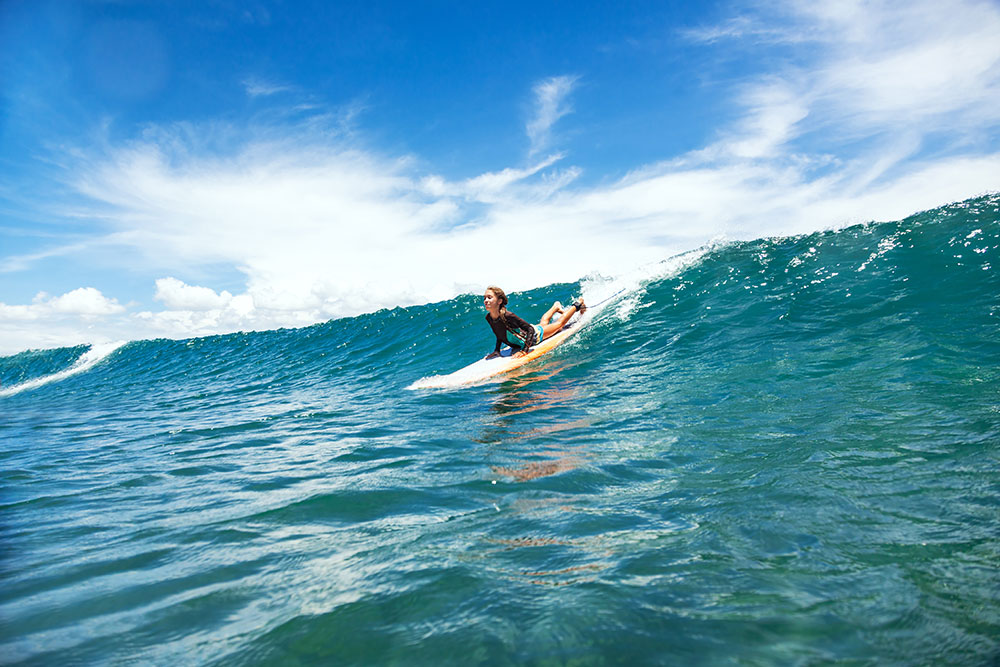 Dry Season Hotspots
Uluwatu
Kuta Reef
Canggu (Echo Beach)
Mentawais
Padang Padang
Airport Left and Right
Medewi
Impossibles
Bingin
Wet Season Hotspots
Keramas
Nusa Dua
Green Balls
Serangan
Here's a little more detailed information on each of the spots mentioned above.
Uluwatu
Since it was made famous by the 70s flick, Morning of the Earth, surfers have been dreaming of Uluwatu swells. Spots located on the southwest tip of Bukit are the most sought-after and have been known to produce waves up to 20 foot.
Best Uluwatu breaks:
The Bombie
Outside Corner
The Peak
Racetrack
Temples 
Green Balls
Breaking at the end of Bukit, the south-facing surf spot is assaulted with strong winds and fierce groundswells. Visit during high tide for semi-gun fun on three to six-foot right-hand kegs.
Padang Padang
From Uluwatu, you can cruise down to Padang Padang. Consistent breaks have transformed this once 'secret spot' into a busy little swell.
Ideal for semi-guns and shot boarders, intense left-handers between four to eight-foot break over Padang's shallow reef. Wait for big swells to ride zealous barrels (generally no longer than 50 metres) with intense lip take-offs. Have your Weetabix before visiting Padang Padang: it is not for their faint of heart!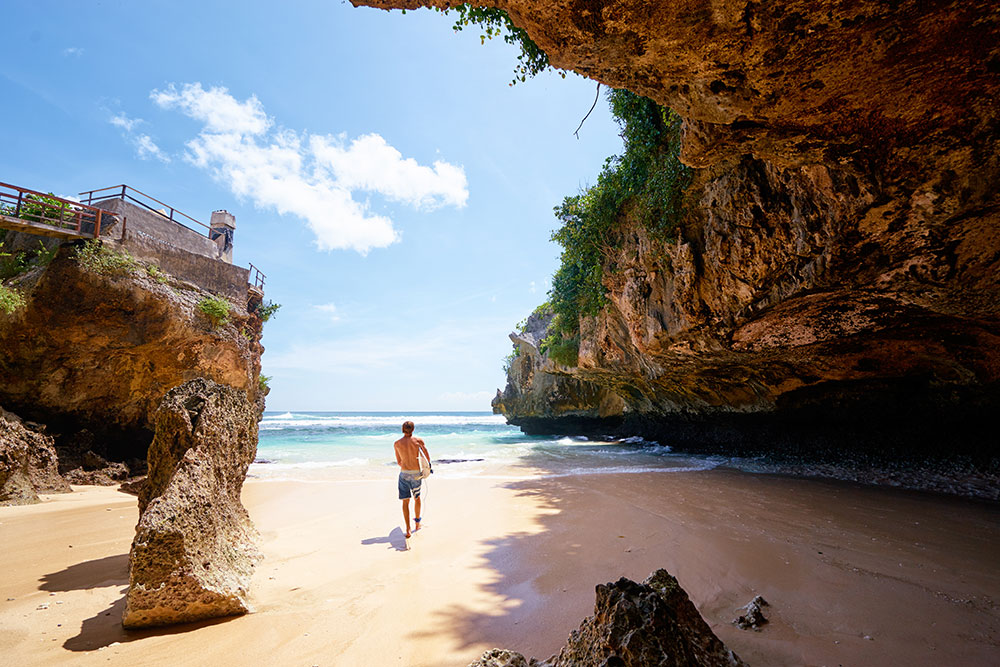 The Impossibles
Target the Impossibles when the SE tradewinds are blowing for up to ten-foot barrels. The spot is vast and spans a long stretch of reef, so taking off unimpeded is easier than most swells in Bali. The left-hand barrels are fast, but swells tend to be smaller at the top end of the Impossibles. 
Bingin
Bingin is located just 20 minutes by car or scooter from either Padang Padang or the Impossibles. Cranking left-hand barrels are clean and hollow, but also treacherous. Considering the three to six-foot waves beak over a very shallow reef, novice surfers should give Bingin a miss.
Canggu (Echo Beach)
With a backdrop of rice paddies, a black sand beach, and three distinct breaks that attract both locals and surf tourists, Canguu is a Bali favourite. There's a left-hand reef break, a left-hand sand bar break and a right-hand swell with a rocky reed bottom. Watch out for the cross-shore trade winds that can have an adverse effect on conditions.
Medewi
Medewi is a west coast coral-bottom spot assessable from the shore and surfable all year long. Surf at sunrise for the best waves. The docile left-hander stretches hundreds of metres and is manageable for intermediate surfers.
Mentawais
Mentawais has more than 20 world-class surf spots that cater to novice and experienced surfers. Join a surf safari to visit as many of the hotspots as possible during your stay.
Experts give Mentawais a 91% rating on the 'epic wave scoreboard'. That's ahead of Hawaii!
With so many spots, Mentawais is a surfer's playground where you won't have to fight for the best play equipment. There are waves for everyone at Mentawais.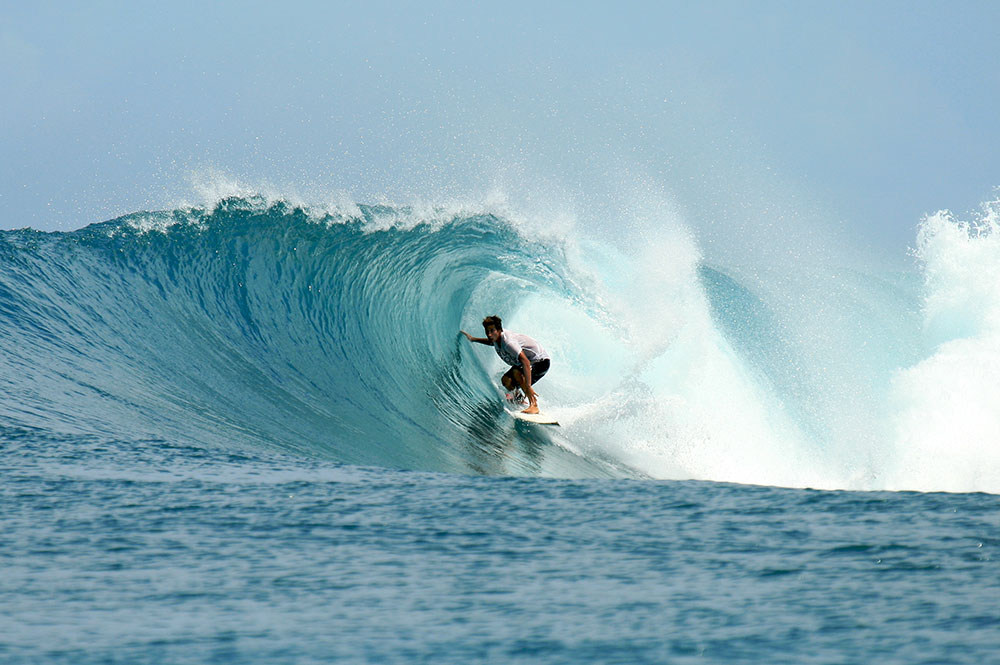 Best Mentawai Waves:
4 Bobs – right-hand breaker. Great for long and short borders.
Bank Vaults  – epic right-hand barrels.
Ebay – left-hander with the best swells from March to September. Barrels are short but intense.
Green Bush – hollow barrels break left. Monster waves during April and October when north winds collide with southerly swells and high tides.
Icelands – small but enjoyable swells producing left-hand waves.
No Kandui – lingering left-hand waves are prolific in big swells, with a few fun ankle busters in smaller swells.
Rags Right – Carve your way through hollow right-hand barrels.
Rifles – Get out your gun for the big right-handers at Rifles.
Suicides – experts need only attempt Suicides. As the name suggests, the left-hand tubes are tricky but so gnarly.
The Hole – firing left-hand barrels and big swell. Yes, please!
Kuta Reef
Experienced surfers avoid the main swells of Kuta's main beach by heading 800 metres out to Kuta Reef. However, it can still be crowded here, but worth it when you snag a good wave. Onshore winds batter the beach daily, making sunrise the perfect time to surf at Kuta. If you leave it too long, the crowds won't be your only contention; choppy conditions will wash out any chance of decent waves.
Airport Left and Airport Right
Watch the planes land as you surf Airport Left and Right, off Tuban Beach. Safe for beginners.
Keramas
Professional and experienced surfers love the reef break at Keramas. Hit the deck at sunrise for surf unimpeded by winds and fierce right-hand tubes between three and eight feet. Wear your booties because this is a shallow break over jagged reefs and rocks. Wait for incoming tides to avoid serious injury. 
Nusa Dua
Nusa Dua is east of Uluwatu and peaks from November to March (i.e. the wet season). Offshore right-handers produce some of the biggest shifting peaks in the area (3-15 feet). Swells are found pretty far from the shore, so a local will be needed to ferry you out to the lippy bowls.
Note: Fast and furious currents can overwhelm the inexperienced so be careful.
Serangan/Turtle Island
Both left and right-hand tubes that break all day long make Serangan one of the best Wet Season surf spots. Easily accessible from the shore, three to ten-foot waves break over an offshore reef.
Best Beginner Bali Surfing Spots
Dreamland Beach (Bukit)
Kuta Beach
Seminyak Beach
Legian Beach
So, What are You Waiting For? Surfs Up!
Design Your Own Bali Surfing Trip Now!
Now you're armed with everything you need to know, it's time to plan the most incredible trip filled with unique, local experiences and of course, plenty of exciting surf breaks. Connect with one of Designer Journeys' expert Local Designers in Indonesia to design your ultimate surfing experience!
Follow us on Pinterest and Pin this Post!