Envy. That's the gut-punch you feel when someone you know gloats about having trekked Nepal. It's a rite of passage, off the beaten track, into another world and time, and you'd need to be uber-fit to tackle it. Part of the appeal are 14 mountain peaks above 8,000 metres.
Actually, there are plenty of options to trek Nepal solo, in a tour group or with your family. Budget an issue for you? Just steer clear of the luxury options. No matter what your aim, budget, or available time, there's some basic tips you'll need to follow to make your Nepal trek a hoot.
We're assuming you're already entranced by the natural beauty of Nepal so we're not going to detail the sights, sounds, fragrances and step-by-step vistas. Simply click on the links within this blog to reach up-to-date information about the treks. It's an ever-changing landscape – Nepal in a nutshell.
Nepal Trekking Planner
Your first port of call is to visit a travel advisory service, such as the Australian government's Smart Traveller website, backed by the Department of Foreign Affairs and Trade. When we last visited that site, its official advice was 'high degree of caution'.
What are the issues then? Well, personal security is the top one, but there's also a high risk of demonstrations and protests, some of which can become violent, it's a highly active earthquake zone – the 2015 quakes have badly damaged some trekking routes – and trekking can be dangerous.
Smart Traveller encourages you to check out reputable trekking companies with professional guides rather than trek solo. Monsoon season is from June to August. In short, avoid that time of year, but beware it can rain anytime. According to the Nepal Trekking Planner site, optimum travel periods are mid-September to November end, then from mid-March to end May. Get a feel for the weather in Kathmandu, for example, from this site. There's a high risk of landslides particularly on major roads in and around all trekking areas. Did we mention that Kathmandu authorities are now doing major roadworks, too?
Still up for the challenge?
What's nifty about the Smart Traveller site is it allows you to subscribe to updates, register your travel plans and, importantly, find the right travel insurance. Australian citizens need a visa, but can get a tourist visa when they arrive. Be mindful visa and other entry and exit rules – including how much cash you can bring in, other customs and quarantine issues – can change.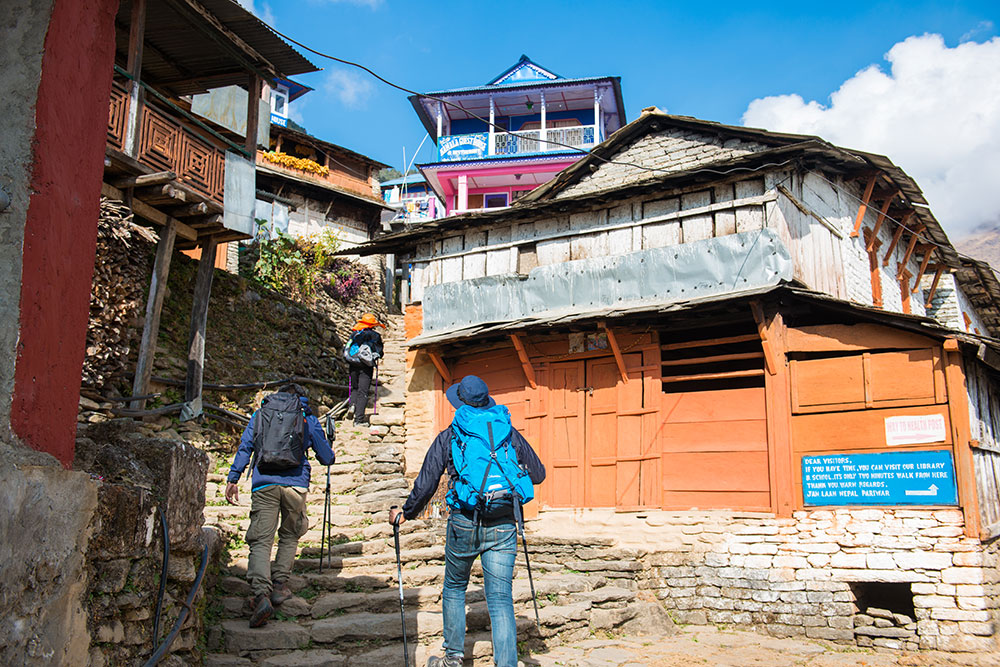 Organise jabs two months before
Smart Traveller suggest you contact a doctor or health clinic eight weeks before your trip to chat about your travel plans and health implications. The World Health Organisation lists Yellow Fever, Malaria and polio as the vaccinations you need to worry about in Nepal and depending on the countries you've visited or lived in before you get there. Check the site for updates. Japanese encephalitis is another risk and HIV/AIDS is also prevalent.
CONSIDERING A NEPAL TREKKING TRIP?
Use Designer Journeys to design your ultimate experience, and receive hand-crafted trips built by Local Designers
Other health issues
Even if you have been vaccinated against particular diseases, there are health risks once you land. In winter, some towns including Kathmandu have high levels of smog and heavy particulate pollution. Here's a link to a real-time air quality map of Nepal.
Concerned about altitude sickness? It can kick in at above 2500 metres above sea level. It's life threatening, so take it seriously. You're at greater risk if you've been afflicted with it before, or have just exercised or drunken alcohol before doing the trek. If high altitude is too risky for you, there are low altitude walks. Another health risk is the highly catchy conjunctivitis.
Enough already, you still want to go!
A Nepal trek adventure and expedition still on your agenda? You have to visualise your goal to make it happen, so we'll start at maps. These will give you an insight into the difficulty of the trek or treks you're hoping to tackle. The Longest Way Home is a cool site linking Google Maps with short treks (two to five days), medium (five to 12), long (more than 12 days) and rarer treks. Another site, Great Himalaya Trails, features detailed maps, such as the Annapurna Circuit, and there's an interactive Everest Base Camp map on Adventures Within Reach.
Keen to download a map to your device for free? MagicalNepal has the real deal there, and also check out Mapbox. But if you want a hard-copy maps you can order from sites such as Omnimap.com. Mobile phone coverage maps show it's fine for Kathmandu but not much outside of there – here's an overview of what services are available. 
Revel in luxury
Ok, let's pace you through the luxury route first. Hire a travel company and they'll give you a porter to carry your gear. That's a weight off your back in more ways than one. Pay more for your trip and you'll be able to explore for longer and in more remote areas such as the Everest Base Camp. To get there, you'll need to book flights to and from Lukla. A 20-day trek sound like you? That means you may have the ever-popular Annapurna Circuit or Everest Base Camp (check out this much-watched YouTube video) on your itinerary. The company, Remote Lands organise 'ultra-luxe bespoke tours' including this 24-day Ultimate Nepal Trek around Annapurna or you could try the foothills luxury trek with Kamzang Journeys including paddling across Phewa Lake and hiking. How about trying Renshaw Travel if you're after luxury accommodation – five-star hotels in Kathmandu and hotel-style lodges en route to cross Annapurna and Everest off your 'bucket list'? Or if something in between suits, there's glamping – you won't have to carry a tent. Nepal's famous network of teahouses give you a roof over your head and scrumptious home-cooked meals daily for your trek even in sub-zero temperatures, according to Elite Daily.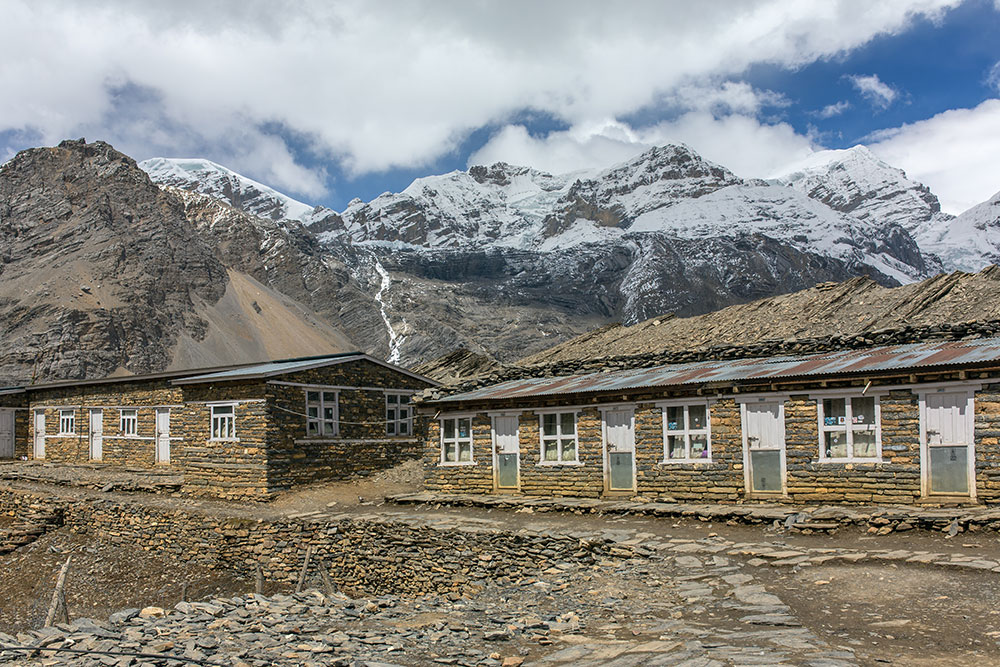 Maybe the road less travelled appeals to you. How about the ninth highest altitude wetland in the world, Panch Pokhai, in Nepal's Sindhupalchok district. You'll have five sacred Hindu holy lakes to drool over. But on the downside, the route has no sheltering places. You could also try Tsho Rolpa Lak Trail, linked to Yeti tales and also one of Nepal's largest glacial lakes.
Those keen to trek at a lower altitude can still 'do' Nepal; just opt for the often-overlooked area of Langtang Valley, close to Kathmandu Valley. There's a 10-day trek from that valley to Syabrubesi, into the Langtang Valley to Kyanjin Kompa for view into Tibet. Described as a moderate trek, it will take you through waterfalls, forests of rhododendron and bamboo and nudge close to the Himalayan snowy peaks.
First timer to Nepal? Chasing Altitude has posted this blog about one guy's first Nepal peak climb – Mera Peak, the country's highest trekking peak at 6476 metres. Should give you a taste of the action. It's one of the more accessible climbing options. The trek also has a cultural bent passing through remote villages and forests and the peak is about 36km east of Everest as the crow flies.
Budget and shorter treks
Fancy a last minute trek of Everest Base Camp for US$1389? That's an offer from Nepal Trekking Planner. Your web search of budget treks could start with the site BuzzSumo. Register for free and you can search terms such as 'Nepal trek budget' for free to get the top 10 or so results for social media sites that ranked high for engagements, shares or number of links. Lock in your internet security systems first, though, as some of the links were blocked by our virus checkers when we did our research. What kept coming up, though, were three day treks such as Poon Hill or a saunter around the Kathmandu Valley.
Trek on the wild side
They'll be those amongst you who'll want or need to trek Nepal during the monsoon season. According to the Great Himalaya Trails blog, your top options are the Upper Mustang Trek, Dolpha Circuit, Rara Lake Trek, Annapurna Circuit (upper parts of Manang) and Humla's Limi Valley Trek. For more info, visit the Great Himalaya Trails blog.
CONSIDERING A NEPAL TREKKING TRIP?
Use Designer Journeys to design your ultimate experience, and receive hand-crafted trips built by Local Designers
Taking the family along
Where better to connect with your family than Nepal. Even for folks who've never trekked before. Nepal Trekking Planner offers tours for families with young children that takes in Kathmandu Valley, Pokhara and treks in Annapurna and Everest areas and the wildlife safari at Chitwan National Park. That park is home to 68 mammal species, 544 bird species, plus renowned for its protection of One Horned rhinos, Royal Bengal Tigers and Gharial Crocodiles.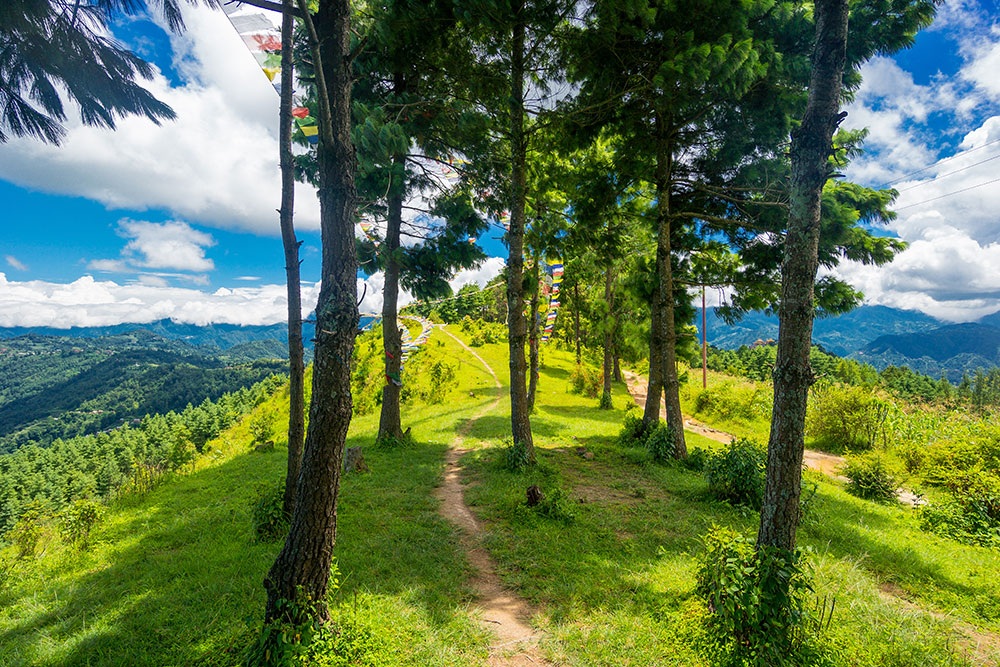 How about checking out the world's longest zipline? As long as the kids weigh more than 35kg (and adults under 125kg), it's a go-er at a whopping maximum speed of 120 kmph. The ride courses 1.8km and dips 610 metres. It starts at the small village of Sarangkot and takes in the city of Pokahara. There's even a butterfly farm nearby, too.
Trekking tips
Set your own pace, keep warm, protected, hydrated, fed and don't go off route are the mainstays of a successful Nepal trek. Book through a registered and reputable trekking agency, but be aware you'll need Nepalese Rupees for wifi, hot water, bottled water, charging your battery, plus tips for your porter (usually about 20 rupees) and others (about 10%). Oh, and dirty washing won't dry in the sub-zero temps, so shove extra clothing into your backpack. 
Securing your permit
Anyone aged over 10 who treks Nepal – whether solo in a group – needs a permit, a Trekkers Information Management System (TIMS) card, before they enter the area. It carries your personal details, where you're trekking, with which company and for how long. The idea is to carry it with your passport and travel insurance certificate. To get a TIMS card, have a copy of your passport and two passport-sized photos available for your registered Nepal trekking agency once you get to Nepal – either in Kathmandu or Pokhara. Costs for the card will vary, so see this site for more info. Just because you have a trekking permit doesn't mean you won't be slugged an entry fee, by the way.
What to pack
You'll definitely need a checklist. Don't bring everything with you as there are well-stocked big-brand name shops in Nepal. For starters, you'll need a sturdy waterproof backpack, which you, your donkey or porter will carry, plus a day pack, just as robust. The big rucksack should hold about 45 litres if you're taking a sleeping bag; 30 litres if not.
The key to your trip is fit-for-purpose shoes – lightweight hiking boots you've broken in before the trip, lightweight closed-in rubber shoes for night walks or showers plus a pair of track shoes.
A down jacket, you can punch into a tiny bag, will be your best travel buddy, plus a suite of quick-dry synthetic shirts and pants, a waterproof jacket (maybe waterproof pants it you're touring during the monsoon season), gaitors, thick socks, comfy clothes for overnight, one or two telescopic trekking poles per person to ease knee strain, a sunhat, light cotton scarf, sunscreen, woollen hat, gloves and scarf. You'll also need wet wipes (if you want to avoid the cold showers), tissues, toilet paper (few trekking lodges supply them), water bottle, head torch, quick-dry towel and sample-size toiletries.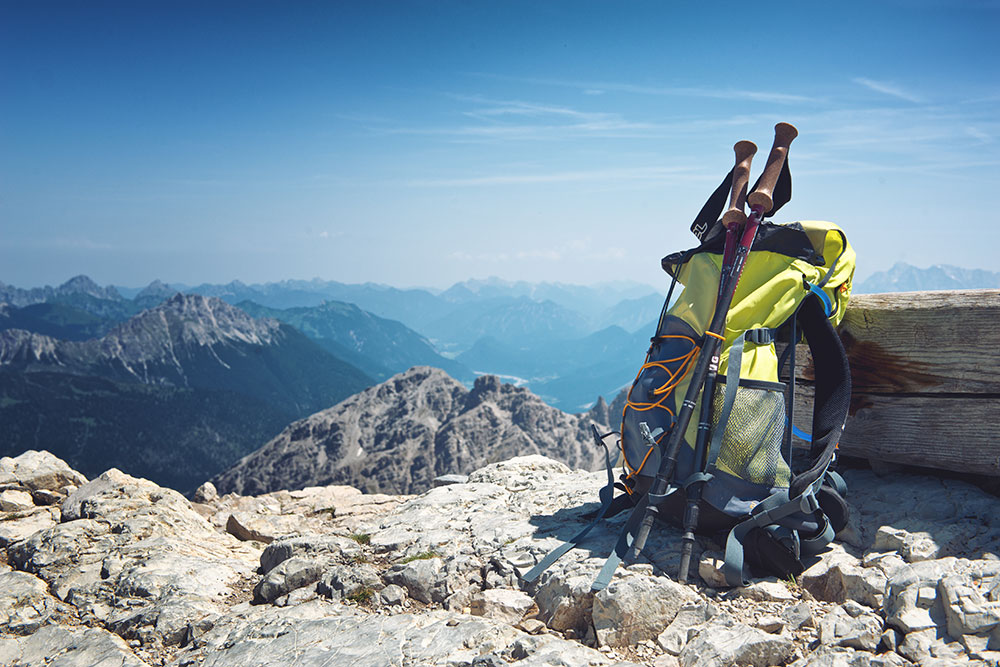 Add to your list a camera, penknife (not for your flight carry-on luggage), plastic bags, all-seasons sleeping bag (to minimum of -15C) with cotton or silk liner, money belt, earplugs, a lighter, personal first aid kit. In that kit you'd want your prescriptions drugs, if any, antibiotics to combat respiratory problems, medicines to tackle gastro bugs and altitude sickness (such as Diamox), band aids, bandages, disinfectant, antiseptic and antibiotic cream and water purifying tablets. For a more extensive list, check out the one on Nepal Now or Nepal Trekking Planner.
What about equipment, particularly if you're roughing it? Sustain yourself while trekking with snacks such as energy bars and chocolates you've lugged from the bigger cities rather than buy en route. Depending on the tour you've booked – or not as is the case – you may need kitchen utensils, food and fruit, too.
Oh and the list above sound comprehensive, but consider you can only carry 15kg per person in combined luggage to fly from Kathmandu to Lukla. Wear your gear on the plane to lighten your load.
While you're waiting, join a virtual community
Once you've booked your trip, sit back and join a virtual community of Nepali trekkers. Follow Facebook groups such as NepaliTravellers, Fellow Traveller Nepal (actually a social enterprise that helps matches volunteers to placements) or to get up-to-the-minute info on the hottest Nepali Facebook page, visit Social Bakers. They're ranked by largest audience – BBC Nepali tops that one – as well as fastest-growing pages – News24 Nepal ranks well as does another news site, DCNepal. They've also got a web site which translates into English.
Visit Nepal – once is not enough.
CONSIDERING A NEPAL TREKKING TRIP?
Use Designer Journeys to design your ultimate experience, and receive hand-crafted trips built by Local Designers