So the diving bug has bit and you're itching to plunge into one of Thailand's best diving spots. Koh Tao, with its plentiful shallow bays, offers novices to intermediate divers great value for money and plenty of opportunities for underwater photography. On the surface, we're talking white sandy beaches, palm trees, steep and rocky terrain covered in thick jungle. But, it's what lurks below that puts this island on the top 10 must-see destinations of the word.
The diving industry on Koh Tao has only been going since about the mid-1980s, so the island and its surroundings still have exquisite pristine beauty. We're talking vivid colours and an amazing diversity of marine life that just pops out at you through crystal clear waters. It's popular – only Australia rivals Koh Tao for the number of PADI (Professional Association of Diving Instructors) student divers certified.
Where is Koh Tao and How Long Should You Spend There?
You'll find Koh Tao in the Ko Pha-ngan District of Surat Thani. It's roughly 70 kilometres off the east coast of Central Thailand and in the Gulf of Thailand. Koh Tao island is just 21 square kilometres, so you can zip around it in a boat within an hour. There are about 15 different dive sites you can access from the island so there are oodles to explore. We recommend you set aside five days to really get to know this island.
However, don't expect to find many shipwrecks or even drift dives here – that's when the water's current or tide pulls you along on your dive and you feel like you're flying through the water. Whilst you might not find shipwrecks or drift dive sites, you won't be disappointed with what's on offer. Expect to find a range of reasonably priced day trips to easy diving sites around the island's coastline. For the experienced diver, check out offshore pinnacles of Chumphon and South West Pinnacle for larger fish and possibly whale sharks.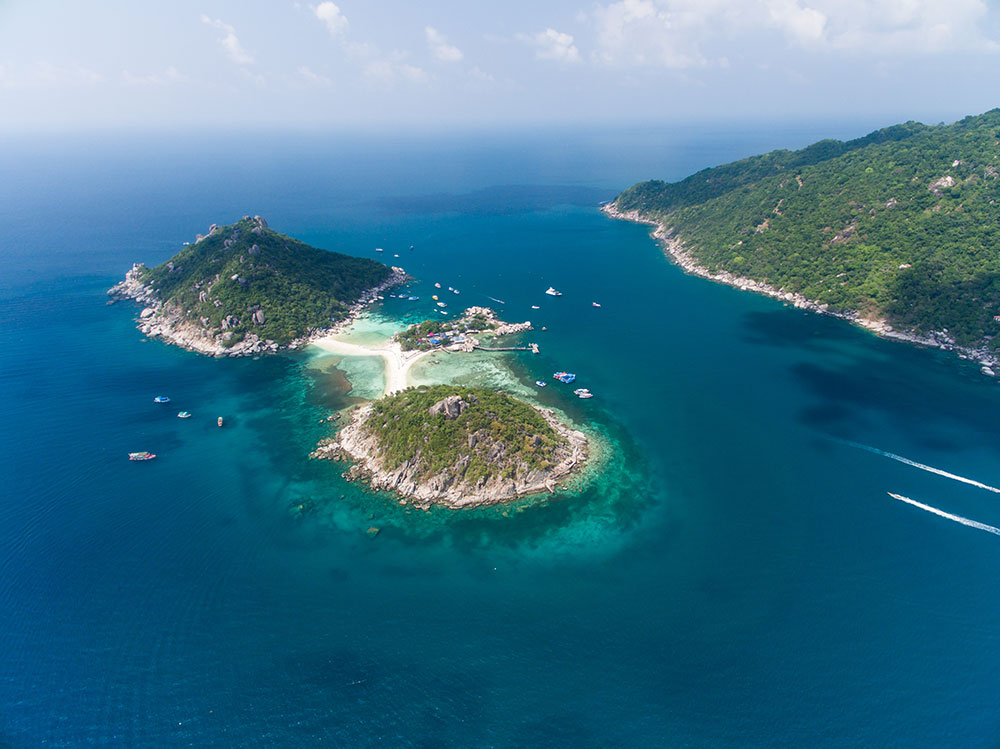 Considering a Koh Tao Diving Trip?
Designer Journeys' network of in-destination Local Designers will use their expert knowledge, local insight and travel planning skills to design your ultimate experience. Begin designing your journey today!
Turtle Spotting
Koh Tao is Thai for 'turtle' and that's what you can expect to see when you're diving there. Here's a YouTube video featuring the Hawksbill Turtle gliding through the sea near Koh Tao at Wrek Sattakut, Twin's Rock and White Rock. The island is the place to dive if you want to see turtles, says blogger, Janine Good of 'Fill My Passport'.
Other Marinelife
Whether you snorkel or scuba dive off Koh Tao, the visual feast is spectacular. Apart from Hawksbill or Green Turtles, you'll take in stingrays, reef fish, sea snakes, squid, moray eels and plenty more. Amongst the isolated granite pinnacle diving sites, you'll find giant grouper and sharks in these deeper waters. Look out for great and chevron barracuda and even whale sharks.
Getting Your Diving Certification in Koh Tao
Don't let your lack of diving certification stop you from leaving home for a trip to Koh Tao. To scuba dive in open water, you need to get certified, that is, get your PADI, the world's most popular and recognised scuba diving course. Find your nearest dive shop here. Type in 'Koh Tao' if that's where you want to get certified and you'll have a choice of about 30 operators to help you.
To get PADI certified, you'll need to successfully complete book and pool work, and obtain a referral to do the open water dives, usually in a lake, quarry or ocean. You'd do these over two days and it'll take up to five successful open water dives to get your piece of paper. There's solid competition amongst operators who certify newbies to the world of diving. You could check out the island's award-winning dive centre, Crystal Dive, which has PADI diving courses from beginner to advanced, even internships and training for divemasters and instructors. Simple Life Divers also offer scuba internships too.
Certification course costs vary, so check the prices, but at the time of writing this, you could do a try dive for 50 Euros and an open water dive for 250 Euros. It's also worth noting that whilst it is popular, PADI is not the only certification available for divers.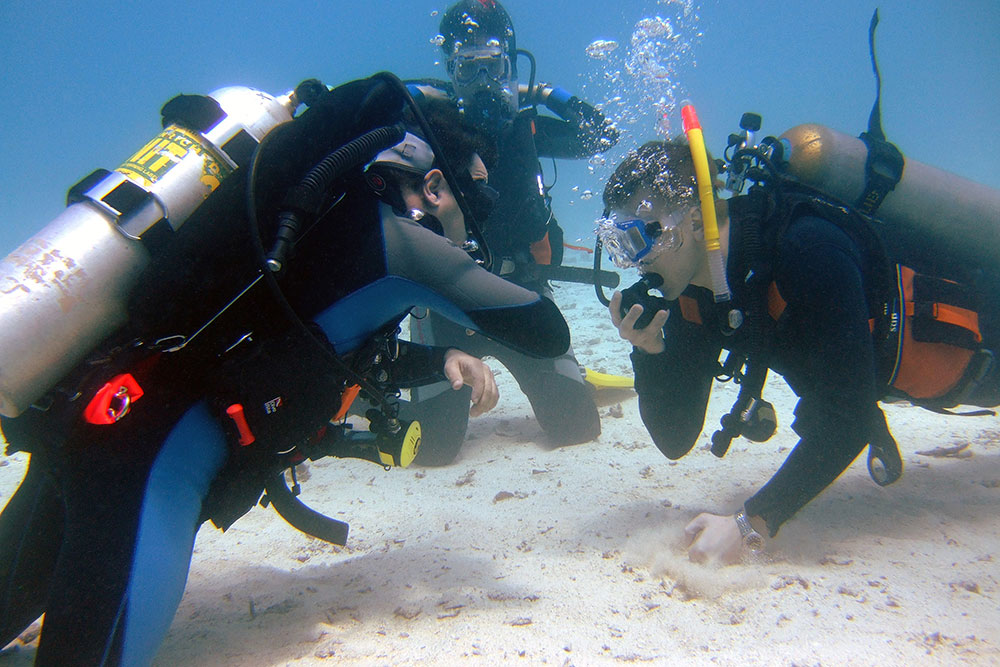 Your PADI certification won't expire, but it could get dusty. If you're already certified but it's been too long between dives for you, there's the PADI ReActivate program to refresh your skills and knowledge online or you can trot into a local dive centre for a water skill review session.
Let our Local Designers Plan Your Koh Tao Diving Trip!
Our trusted network of Local Designers in Thailand can take all the hassle of our planning your trip. They'll use their local insight, expert knowledge and skills to tailor every element of your trip to you! Browse our customisable Thailand tours today and connect with one of our Local Designers to begin planning your journey today!
Water Temperatures Around Koh Tao
Around Koh Tao, the water temperature is usually between 27 and 30 degrees Celcius on average. The water is calm but can be a bit choppy offshore. Expect gentle currents, but you may experience stronger ones at particular sites. You can go down five to 35 metres and visibility is excellent – usually best at five to 20 metres. To get a visual, check out this YouTube video, or Fat Fish Movie's Top 10 Things to See Scuba Diving in Koh Tao. Just magical!
How to Get to Koh Tao
Short of time? Fly from Bangkok and you'll be there in under four hours – that involves flying to the nearby island of Koh Samui and taking a boat to Koh Tao. Other options include taking the overnight bus from Bangkok to Chumphon, then a high-speed catamaran, which takes just two hours to reach Koh Tao. If the bus isn't your style, there's also a train from Bangkok to Chumphon.
Top Tips for Safe Travel in Thailand
Sorry to dampen your enthusiasm, but you'll need to exercise caution when holidaying in Thailand. That's the official word from the Australian Government's Smart Traveller website. For starters, cross these places off your itinerary – Yala, Pattani, Narathiwat and Songkhla. Due to high levels of violence, including frequent attacks and bombings, these places are not recommended for your Thailand itinerary. You could also void your travel insurance by going to these places. The good news is that Koh Tao isn't on the 'no go' list.
However, across Thailand, you should be wary of the possibility of civil unrest and terrorist attacks. Tourists are also a drawcard for scams, serious criminal activity, food and drinking spiking. Try to avoid handing over your passport as security for hiring scuba diving equipment. If there's a dispute about damage, the operator could try to hang onto your passport until compensated.
Before and during your trip, you can get Thai travel updates by registering for your own Smart Traveller account.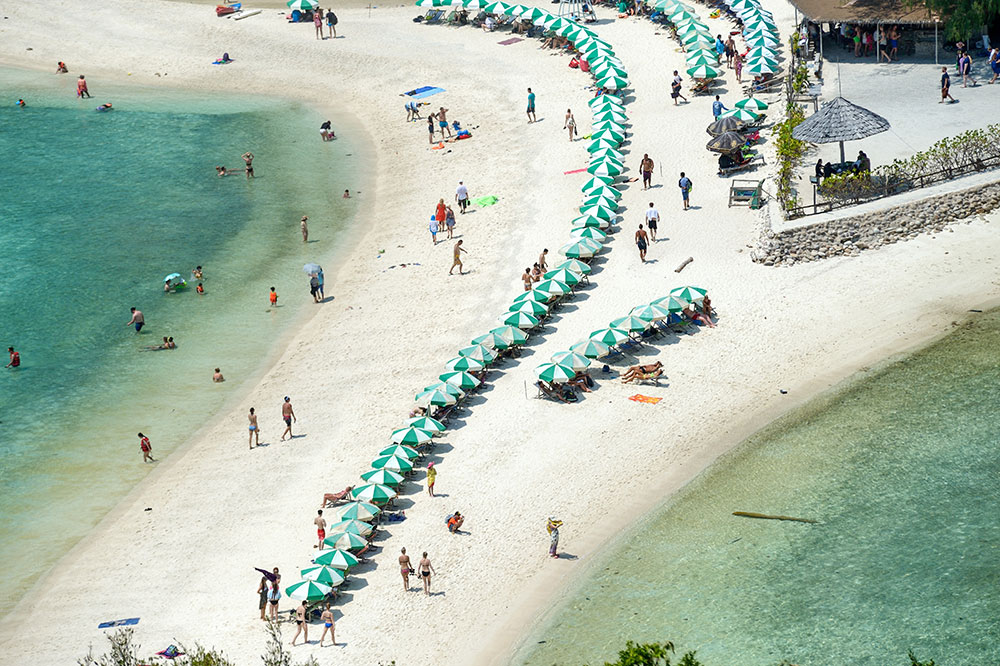 Stay Healthy
What you do have control over is your health – getting vaccinated and being wary about mosquito-borne diseases such as the Zika virus. Get savvy about what your home country advises about health. The Australian Department of Health recommends postponing non-essential travel if you're pregnant, for example.
Get Travel Insurance
Thinking of travelling on the cheap and ditching travel insurance? Check out the insurance cheat sheet from consumer advisory organisation, Choice. As they say, if you can't afford travel insurance, you can't afford to travel. About eight weeks before you fly out, see your GP or travel clinic for a health check-up and get an update if you need any specific vaccinations.
Respect Local Customs
Bet you didn't know that showing the soles of your feet or touching the top of a person's head causes "grave offence" in Thailand? That's right, according to Smart Traveller, these acts should be avoided as it is hugely disrespectful. Money and the royal family, particularly the late King are incredibly sacred in Thailand.
Before you travel, take some time to familiarise yourself with local customs and respect them. You can read more about Thailand travel top tips in our Thailand travel guide. Travelling with a local guide, on an itinerary designed by our expert Local Designers in Thailand, means that you will learn about these unique customs and traditions throughout your tour.
Don't Miss Our Exclusive Offers! Subscribe Today!
For the ultimate travel inspiration, local insight straight from our expert Local Designers and exclusive offers you won't find anywhere else from Designer Journeys, sign up today! Don't miss out.
When is the Best Time to Visit Thailand
Thailand is hot and humid most times of the year – now if that doesn't make you want to scuba dive, what will? Get a handle on the weather from our in-depth Thailand travel guide.
The dive season is said to be year-round, but it depends on what your goals are. Want to see whale sharks? Get there between February and May as there's more plankton in the water which also attract the manta rays. Keen on warm water temperatures? That's February to May, so avoid the coldest temperatures from June to October.
Monsoon season rears its head between November to March. Then, on the Thai Peninsula, you'll encounter severe rips and undercurrents. In Australia, you are cautioned to swim between the red flags, but in Thailand, red flags warn swimmers against entering the water. If you're not sure, check with local authorities and definitely don't go for a dip after dark or after drinking alcohol.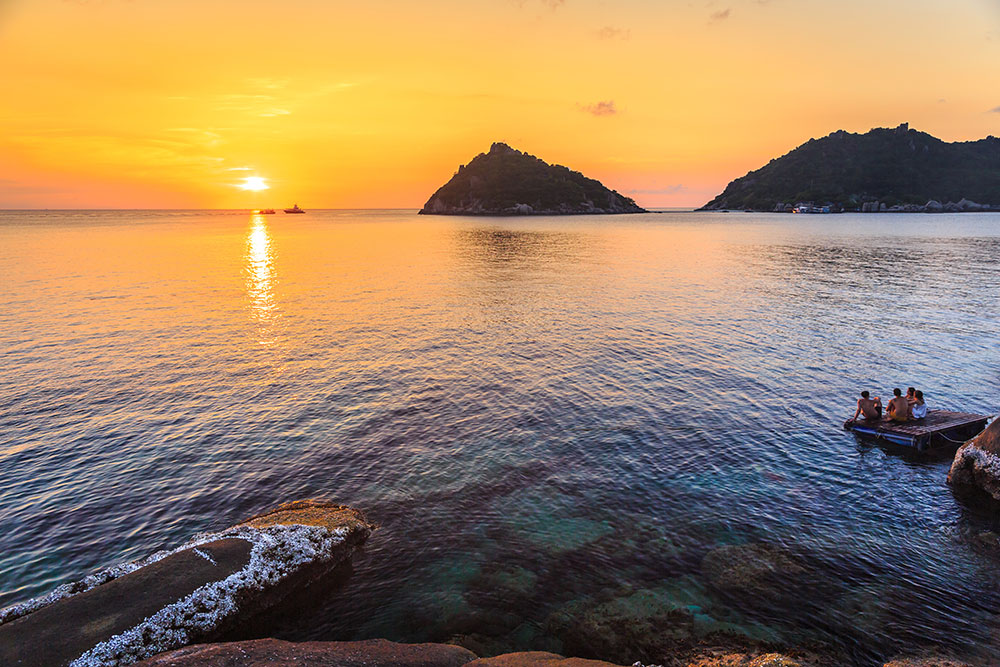 Peak Diving Season in Koh Tao
On Koh Tao, the peak diving season is July and August, meanwhile, from October to November, the monsoon winds will make it harder to see and you'll be battling sea swells, but diving trips will still operate. The island's not much fun to be on during the heavy rain and winds of November to February, so avoid that time. Another time to cross off your list is from March to April when the Titan Triggerfish can get aggressive during the breeding season.
Our Local Designers will advise on the best time to go to Thailand based on what you are planning to do.
What to Pack for Your Koh Tao Diving Trip
As a novice, you'll want to pack light with summer clothing, sunglasses, sunscreen, a camera (especially one you can use underwater) and your mobile phone (coverage on the island is good, so just invest in a Thai SIM card to get you connected once you arrive). There's a lot of stuff you buy cheaply on the island, so if in doubt, leave the heavy stuff at home.
You might have a favourite set of fins, mask or snorkel that you want to bring with you. If you're a snorkeler, here's a guide to the gear. All dive centres will include the rental of all equipment with your dive so you won't need to bring anything besides your swimming costume. Whilst it's not necessary, if you prefer to be the only person who's used your face mask for diving then, bring your own. But, make sure it is a high-quality one.
If you're going for an instructors' course, you'll need a laptop to access the digital files/manuals.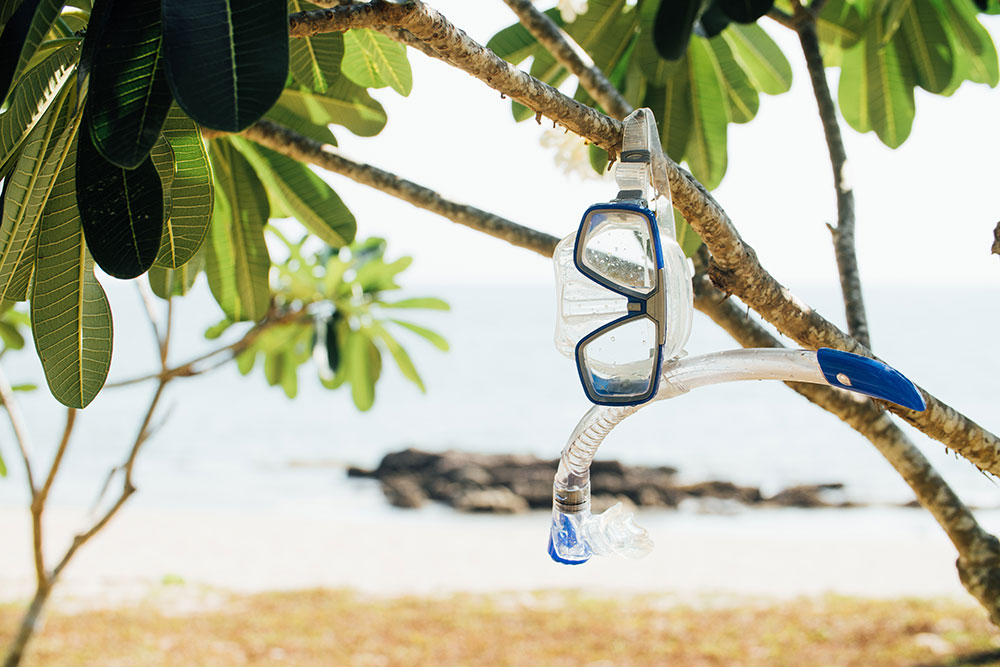 Get Inspired for You Koh Tao Diving Trip!
So we've armed you with all the information you need around Koh Tao diving and planning the perfect trip! How about some inspiration?
All of our Thailand trips have been designed by our expert Local Designers in Thailand using their travel planning skills and unique local insight. Each trip is entirely customisable to your budget, travel style and interests. No request is too big or small for our Local Designers! At the heart of each of our extraordinary tours, is unique, local experiences which are Local Designers are experts at seeking out and designing for you. Whether you're a history or culture buff or prefer to explore each new destination through your tastebuds, our Local Designers can tailor your trip to suit you perfectly.
To begin your journey, you can either customise one of our Thailand tours in our gallery or instead design your own from scratch by answering a few simple questions about our trip and letting our Local Designer do the rest! They will work with you to design the perfect trip suited to you, then they'll deliver your free personalised itinerary within 48 hours.
Try it for yourself by tapping the button below!
Browse Our Customisable Thailand Tours
Browse our gallery of highly customisable Thailand tours, connect with a Local Designer, and design your ultimate travel experience with Designer Journeys!
Follow us on Pinterest & Pin this Post!