The diving Mecca known as Phuket has long been touted as the jewel of the Andaman Sea. It dazzles with diverse underwater life and countless locations to take it all in. Whether you're an experienced diver or just starting out, it's time to traverse the tantalizing depths surrounding Phuket.
Scuba-Diving Certifications in Phuket
Are you looking to become certified in PADI or SSI? Need a refresher course to update your skills? Just want a day trip to one of the local sites? Perhaps you're an experienced diver hoping to spend a week or more submerged?
Luckily, Phuket boasts an underwater wonderland so sublime you'll want to swap your lungs for gills. Phuket and its many diving schools and resorts accommodate every type of diving trip and activity. You'll be able to choose between different types of courses to suit your trip, whether that be SSI or PADI, open water or advanced – the choice is yours!
Top Phuket Diving Sites
These locations are your best bet when considering diving as part of your Thailand trip. They are the most popular dive sites when it comes to beautiful ocean life, safety and easy access.
West Coast Dive Sites
For those who prefer to stay close to home, or suffer seasickness, there are a number of spots just off the west coast of Phuket that are easy to reach and a joy to dive. These include Bang Tao Beach, Freedom Beach, Paradise Beach, Kata Beach and Patong Beach. Beginners and snorkelers are particularly encouraged to visit these sites, where depths average between five and six metres.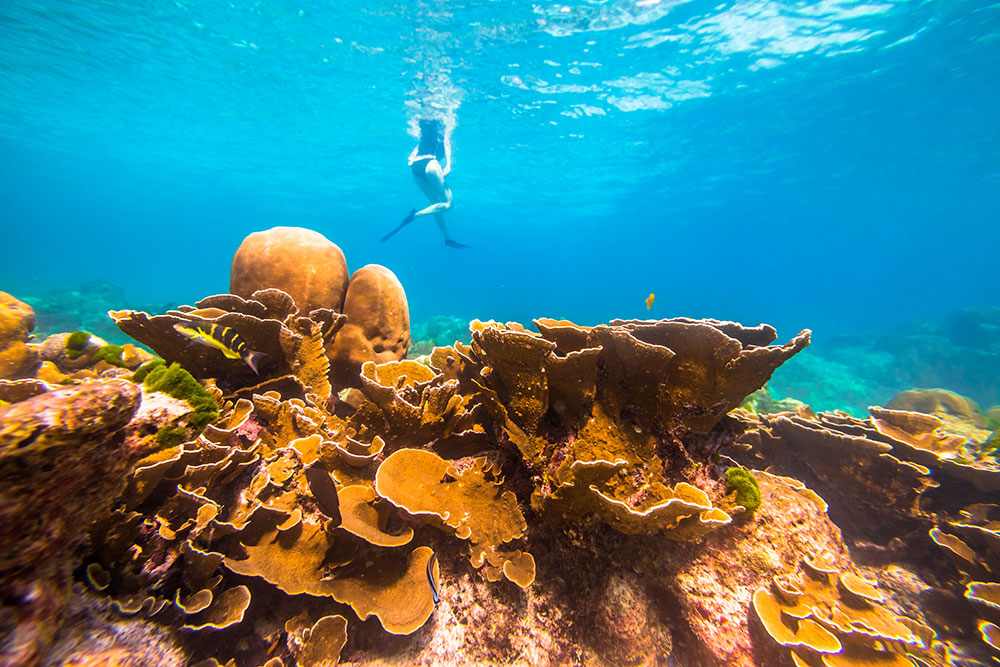 Shark Point
Leopard sharks comb the seafloor at the aptly named Shark Point. A limestone pinnacle just breaking the surface marks the spot where sea fans and a bounty of soft corals colour the rock and create a multi-coloured backdrop where moray ells interact with leopard sharks, orange-spine unicornfish, batfish, giant moray eels and the occasional whale shark.
The depth ranges from 10 to 30 metres with a visibility of 2 to 25 metres. This site is suitable for divers of all experience levels.
Racha Islands
Racha Yai and the smaller Racha Noi make up the Racha Islands. The former is appropriate for novice divers and professionals, while Racha Noi should be left to the proessionals. Read on for more information on these islands.
Planning a Phuket Diving Trip?
Let Designer Journeys' trusted Local Designers in Thailand design, build and deliver your ultimate experience using their local insight and expert knowledge.
Racha Noi Island
Racha Noi is just over an hour from Phuket. Strong currents and deep dives make this site better suited to experienced divers. Intermediate divers are encouraged to dive the island's northern tip where a large pinnacles abound. Expect to see reef sharks, Manta rays barracuda, frogfish and Leopard sharks. Don't forget to check out the wooden shipwreck on the southwest side of Racha Noi and keep your eyes peeled for Whale sharks. Here, you'll find giant boulders are covered with hard and soft corals.
The depth ranges from 10 to 40 metres with a visibility of 2 to 20 metres.
Racha Yai Island
Wreck diving dominates Racha Yai thanks to a collection of four sunken vessels lining the waters around the island. Snorkelers are treated to pool-like areas ideal for drifting. In between coral gardens, you'll see sharks, rays, barracuda and blue marlin.
The depth ranges from 3 to 30 metres with a visibility of 20 to 30 metres.
King Cruiser
Located 32 kilometres from Phuket (10 kilometres off the coast of Phi Phi), King Cruiser is an 85-metre passenger ferry that ran aground on submerged rocks at Anemone Reef in 1997 while on a routine trip between Phuket and Koh Phi Phi. The wreck has since become one of the most visited wreck dives in the area, with eels, groupers and crabs roaming the Cruiser's open decks.
The depth ranges from 5 to 32 metres with a visibility of 2 to 25 metres and the site is suitable for beginner divers.
Phi Phi Island
Long before Leonardo Dicaprio made the white sands of Maya Bay iconic in the 2000 film, The Beach, the six islands that make up Koh Phi Phi enticed divers from every corner of the globe.
Divers who venture to Phi Phi (just 40 kilometres from Phuket) are treated to arguably the best dive sites in the Andaman Sea. Hin Daeng and Hin Muang are two locations not to be missed. Rated among the top dive sites in Thailand, manta rays and whale sharks can be spotted at both, as can crocodile needlefish and imposing walls of schooling fish.
With caves, swim-throughs and overhangs, Phi Phi's underwater landscape is peppered with metre-high white coral bush (not found anywhere except the waters off Phi Phi).
The depth ranges from 3 to 27 metres with a visibility of 5 to 30 metres.
Don't Miss Our Exclusive Offers! Subscribe Today!
For the ultimate travel inspiration, local insight straight from our expert Local Designers and exclusive offers you won't find anywhere else from Designer Journeys, sign up today! Don't miss out.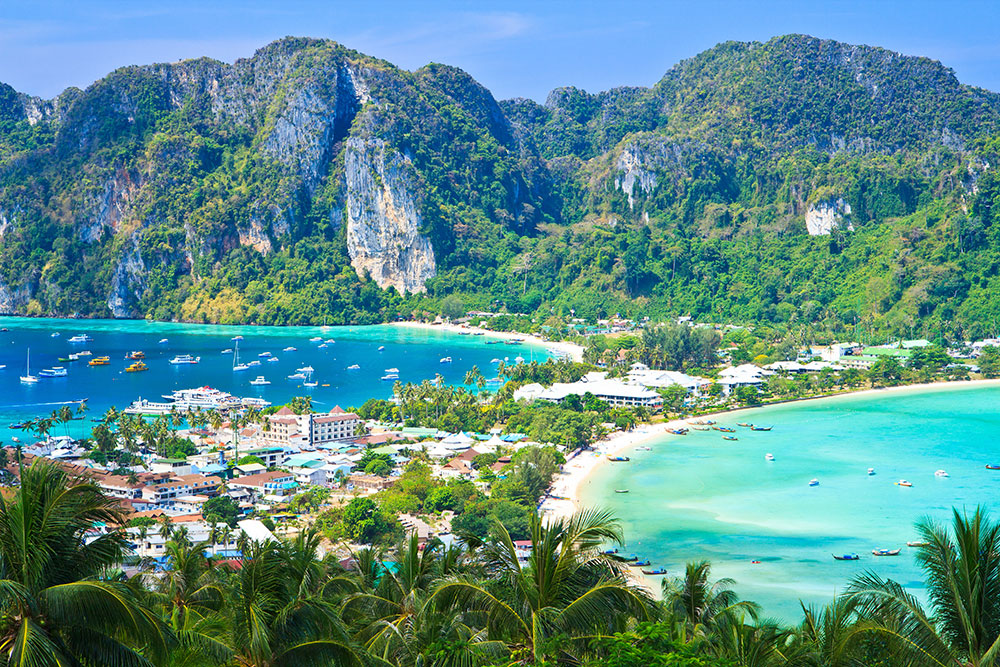 Richelieu Rock
The elusive whale shark is known to visit Richelieu Rock, which lies 18 kilometres east of the Surin Islands. The pinnacle breaks the surface at low tide when the cagey Black Merlin makes the occasional appearance. The months between February and April tend to see more whale sharks at Richelieu Rock.
Koh Dok Mai
If you like wall diving then you'll adore Dok Mai. The tiny jungle island of Dok Mai is famous for its coral-covered cliffs that host seahorses, leopard sharks and moray eels. Snorkelling off the beach is recommended.
The depth ranges from 5 to 20 metres with a visibility of 5 to 25 metres.
Similan National Park
A tangle of nine islands makes up the Similan Marine Park, which was established in 1982. Almost 30 different dive sites are found in the park, so you can always find a location not too overrun with other divers.
Sandy beaches lure snorkelers, and the wall and drift dives act as a magnet for experienced divers.
The depth is up to 35 metres with a visibility of 2 to 25 metres.
Design Your Dream Thailand Trip!
Use Designer Journeys to design your ultimate Thailand experience! Connect with our trusted Local Designers who will build your perfect trip tailored to your budget, needs and interests. Tap the button below to get started and receive your free personalised itinerary in less than 48 hours!
Anemone Reef
Beginners are welcome at Anemone reef, where you'll be forgiven for thinking the coral-covered rock wall is pulsing and moving with the current. It isn't only divers who admire the beauty of Anemone Reef; leopard sharks, barracuda and countless coral fish are seen swimming around the 30-metre limestone structure. Clusters of lionfish, up to a dozen deep, are an Anemone Reef highlight.
The depth ranges from 5 to 24 metres with a visibility of 2 to 25 metres.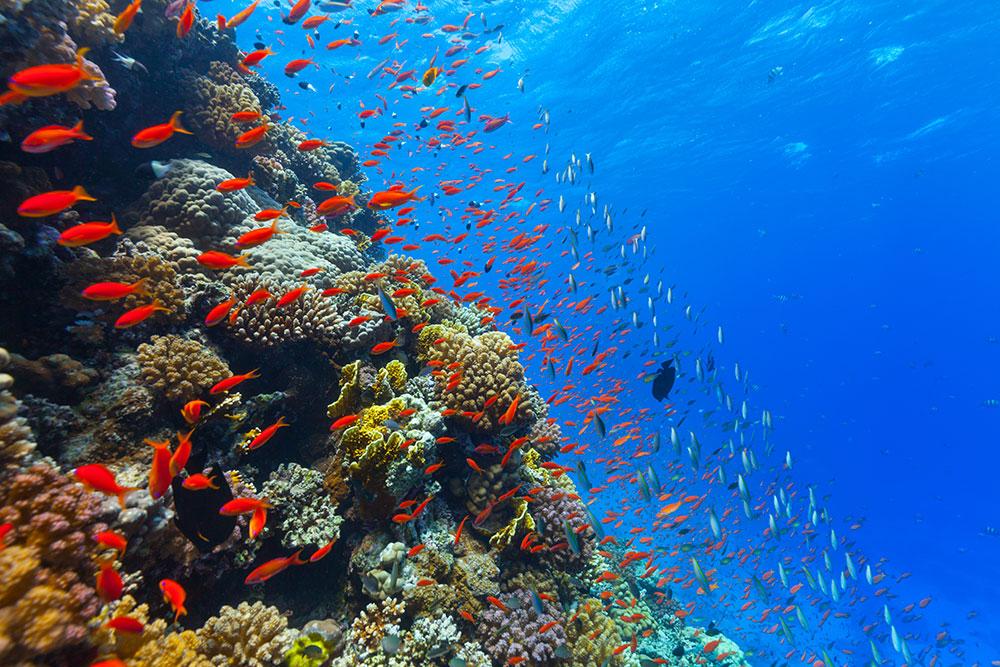 There are too many noteworthy dive sites to mention here in detail, so we've compiled a short and snappy list of a few more favourites:
Koh Bida Nok/Koh Bida Nai (the Bidas): You'll see leopard sharks, turtles, a diverse range of coral and fish.
Hin Daeng & Hin Muang: You'll see whale sharks, manta rays, grey reef sharks, soft coral beds.
Maya Cave: You'll see leopard sharks, moray eels, lionfish, blue-spotted rays. Cave diving is suitable for all skill levels.
Koh Haa (Five Islands): You'll see Chimney Cavern system, ghost pipefish, Hawksbill turtle, mantle/marble/eagle rays. Schooling glassfish, barracudas and giant trevally.
Palong Wall: You'll see the best wall diving in the area, reef sharks, turtles, seahorses and accessible caverns.
Kled Gaeow Wreck: You'll see the 1956 decommissioned Thai Naval Ship which sunk in 2014.
Phuket Weather
The age-old "What should I pack?" dilemma no longer applies because, praise Mother Nature, Phuket welcomes just two seasons – the wet and the green.
Dry Season
Diving in the dry season is preferable because visibility is better and conditions are more stable. Spanning November to April, the dry season coincides with the peak tourist season and parades as many as 26 sunny days each month, averaging 28°C.
February to April brings ideal diving conditions. These months, fewer tourists flock to the region than during the festive months of December and January and as such, so you can expect calmer waters, ideal temperatures, and less crowded underwater attractions.
April ranks as Phuket's balmiest month, with temperatures peaking at 36ºC. Brief and intense storms cells create refreshing reprieves, but the resulting humidity can be stifling. Less precipitation and lighter winds (if any at all) do wonders for underwater visibility – something that divers and snorkelers should take full advantage of.
Green Season (Wet Season)
The longer and soggier green season (or the wet season) encompasses the months of May through October. Temperatures can reach 33ºC (90ºF) but generally average more comfortable temperatures.
For those visiting Thailand in the wet season, don't despair. Not only will you enjoy cheaper accommodation and activities, but you'll also be spared the tourist torrent. Plus, the heavy showers extend a rustic jungle beauty all their own, and believe it or not, the sun still shines for extended lengths of time. In particular, the months of June, July and August bestow ample sunshine and around 20 clear-sky days respectively.
Punctuating the green season is the rowdy southwest monsoon season. Bearing down on southern Thailand's southwest coast, the monsoon keeps things damp from late May to October. The heaviest rains can be expected in September and early October.
Getting to Phuket
Phuket International Airport – HKT
As the second-largest airport in Thailand, expect swelling crowds. Millions of locals and tourists pass through HKT each year, and as any seasoned traveller knows, a busy airport is not a happy place.
All the major players (and some of the smaller ones, too) run flights in and out of Phuket, so securing a seat will not be a problem. Avoid Phuket's airport taxi scam and book a ride beforehand with a reputable company. Shuttle busses are cheaper (and safer).
Samui International Airport – USM
Superb design meets natural beauty at Thailand's most stunning airport. Located in the region's north, Samui International Airport showcases open-air architecture at its best. In fact, the whole setting feels more like a resort than an airport, and passengers are invited to dine and shop accordingly. Thatched rooves and palm tree pillars blend in perfectly with the surrounding coconut plantation and add a sense of serenity to the otherwise stressful experience of air travel.
Flights between Koh Samui and Phuket average one hour and Bangkok Airways provides five fights daily. Travellers making the journey are encouraged to book their return transfer at the airport on arrival. Choose between private taxis and shared minibus services.
Most people planning a Phuket diving trip fly from Koh Samui or Bangkok.
Suvarnabhumi Airport (Bangkok) – BKK
Suvarnabhumi Airport is the country's largest and busiest. Just 30 kilometres east of Bangkok, the 674-kilometre flight to Phuket is covered in under an hour and a half. There are 58 flights departing from Bangkok to Phuket each and every day.
Not departing from Bangkok or Koh Samui? The following airports offer services directly to Phuket:
Chiang Mai International Airport (CNX)
Hat Yai International Airport (HDY)
Bangkok's Don Mueang International Airport (DMK)
Ubon Ratchathani Airport (UBP)
Udon Thani International Airport (UTH)
Alternatively, ferries to Phuket run from Krabi and Koh Lanta.
The Comprehensive Guide to Thailand Travel
For more information on the best time to travel to Thailand, the best places to see, the most unique experiences to enjoy and cultural customs to be aware of, check out our Thailand travel guide and our range of posts related to Thailand here.
Ready to Design Your Phuket Diving Trip?
We hope we've piqued your interest with this guide and now you're even closer to designing your dream Thailand trip. Explore our gallery of fully customisable Thailand tours and connect with our trusted Local Designers in Thailand to design your own extraordinary experience with Designer Journeys!