"The best way to observe a fish is to become a fish," said Jacques Cousteau.
…Sipadan diving in the Celebes Sea is an idyllic destination where divers can do exactly that.
As the best dive destination in Malaysia and one of the most loved in the world, Sipadan is routinely named on diving bucket lists. It recently took the number one spot on Rodale's Scuba Diving Magazine's Gold List of The Top Dive Destination in the World. Sipadan shared the accolade with Truk in Micronesia and the Galapagos Islands (quite a prestigious group).
Giants of the fish world frequent the clear waters here, so prepare for close encounters of the barracuda, bumphead parrotfish and schooling jack variety.
Where is Sipadan?
Sipadan, or Pulau Sipadan ('Border Island') as it is officially known, is a 30-acre island on the north-eastern edge of Malaysian Borneo in the state of Sabah.
Blanketed with lush rainforest, Sipadan is the only oceanic island in Malaysia. Floating 2000-feet above the seafloor, its remarkable underwater environment is the culmination of three centuries of coral growth flourishing atop an extinct volcano. The result is a lavish ecosystem teeming with big fish like tuna, silver jack and big-eye trevallies. Pelagics such as manta rays and eagle rays also roam the warm waters, along with sharks and thousands of diverse fish species.
Looking to Plan a Sipadan Diving Trip?
Connect with our trusted Local Designers at Designer Journeys who will take your budget and requirements and build your ultimate experience. Within 48 hours, you'll receive your hand-crafted personalised free itinerary built by our Local Designers!
Getting to Sipadan
Reaching Sipadan is tricky and time-consuming, but any concerns are alleviated upon arrival.
Step 1: To get there you'll first need to fly into Tawau airport. How? Easy. Start at one of two points of origin.
Kuala Lumpur (KUL) to Tawau airport (TWU)
Six flights per day
Flight duration: Two hours and 45 minutes
Kota Kinabalu (BKI) to Tawau (TWU)
Six flights per day
Flight duration: 55 minutes
Air Asia and Malaysian Airlines run services to and from both airports.  There are flights running throughout the day, but it is recommended you secure a seat on the morning flight that arrives in Tawau at 8.15am. Most resorts prefer a morning pick-up, and it means you'll be able to start diving the same afternoon.
Step 2: From Tawau (TWU), a two-hour journey by car (taxi or private/joint transfer) takes you to Semporna harbour.
Step 3: Next, a 45-minute boat trip will ferry passengers from Semporna harbour to their final destination – either Mabul or Kapalai Island. It shouldn't take longer than 25 minutes from either destination to reach Sipadan (more on this soon).
Make the transfer process as simple as possible by booking through a reputable transfer company when you arrive at the airport, or even better, let one of our trusted Local Designers in Malaysia take care of it for you.
Getting Home
Once again, you have two options:
Tawau (TWU) – Kota Kinabalu (BKI)
Eight flights per day
Flight duration: 55 minutes
Tawau (TWU) – Kuala Lumpur (KUL)
Six flights per day
Flight duration: Two hours and 45 minutes
Currency in Sipadan
Live updates on Malaysia's Ringgit (MYR) can be found at XE Currency Converter. At the time of writing, the numbers looked like this:
1USD = 4.40MYR
1AUD = 3.34MYR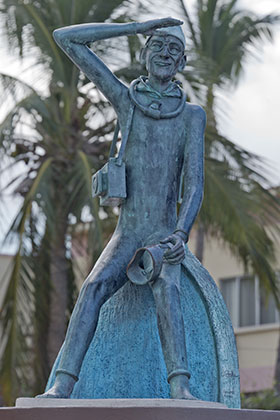 Fun Fact:
Jacques Cousteau (1910-1977) is the Godfather of SCUBA. He co-invented an on-demand oxygen system that reinvented the SCUBA world in the '40s and allowed intrepid divers the opportunity to spend longer and longer underwater.
After submerging himself in the splendour of Sipadan, Cousteau became enamoured with the island's eclectic and bountiful marine diversity. In 1988, he remarked, "I have seen other places like Sipadan 45 years ago. Now we have found again an untouched piece of art." The Island has since become one of the most popular dive destinations in the world, attracting Cousteau-wannabes and serious divers to its inviting waters.
What You Need to Know about Diving in Sipadan
Diving Conditions
Sipadan's equatorial climate delivers warm and humid (85-95% humidity on average) all year long. However, sea breezes make daytime temps of 28-34°C, and nighttime lows of around 22°C, more bearable.
Visibility: minimum of five metres and a maximum of 40 metres.
Water temperature: ranges from 26-30°C
Don't Miss Our Exclusive Offers! Subscribe Today!
For the ultimate travel inspiration, local insight straight from our expert Local Designers and exclusive offers you won't find anywhere else from Designer Journeys, sign up today! Don't miss out.
Dive Season
The waters of Sipadan are diveable year-round, with experts touting the months between April and December as the most favourable. More specifically, July and August enjoy the calmest surface conditions. The rainy season between December and March experiences the choppiest waters with slightly poorer underwater visibility and cooler water temps.
Peak seasons span July-August, December-January and the Easter period to a lesser extent. Our Local Designers can put together an affordable trip and increase your chances of diving by planning a trip to Sipadan during the off-peak months. Since Sipadan does not experience a monsoon season, there is little disadvantage to travelling in quieter times.
Turtle Season
The Sipadan shore is a popular nesting ground for green and hawksbill turtles. Sightings are high, particularly from April to September.
The popularity of turtle season translates to fully booked dive resorts most of the year. Pre-book to avoid disappointment and set aside between one and two weeks so you can enjoy as many dives as possible.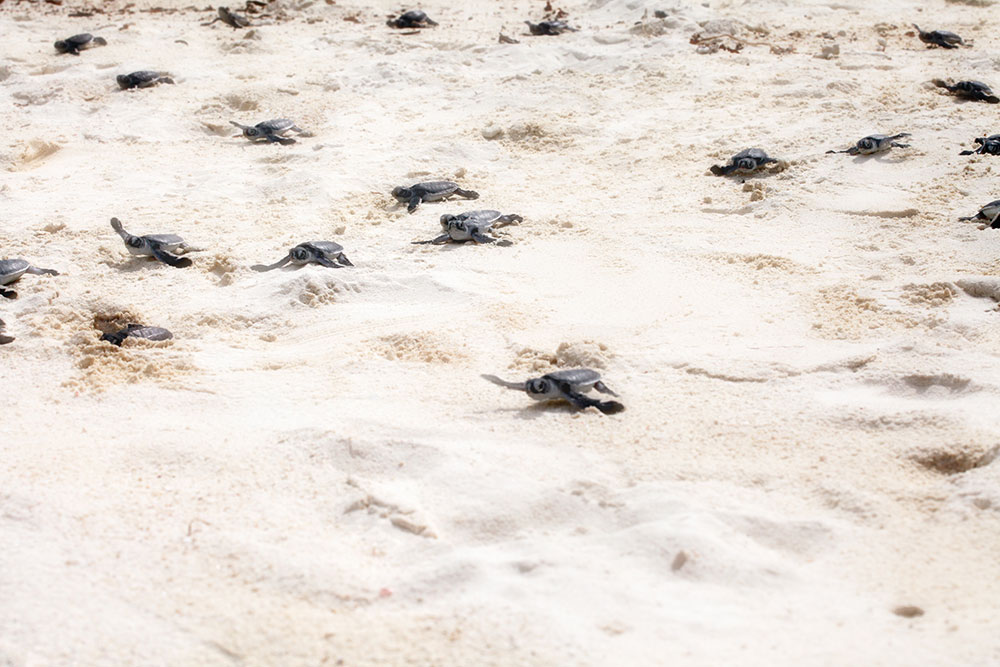 Diving Permits
Diving works a little differently on Sipadan and you will need to obtain a diving permit before hitting the water.
A total of 120 dives (or permits) are allocated by officials at Sabah Parks each day. One permit equals one day of diving (how many individual dives you will be able to squeeze into a single day depends on your operator and weather conditions).
The permits are divvied up between the biggest resorts in the region. You cannot obtain them yourself – you must do this through the resort.
Remeber: A strict 'No Glove, No Dive' policy applies at all of Sipadan's dive sites. Additionally, a maximum depth of 40 metres cannot be surpassed.
With the permits in place, you should expect to visit four dive sites on a good week.
Unfortunately, permits cannot be secured ahead of time and distribution works on a rotational basis, so it really is the luck of the draw. But, once your number comes up the wait is well worth it.
In essence, the only way to secure dives is to stay as long as possible. Our Local Designers can help put a trip together to make this a wonderfully exciting time for you.
Planning a Sipadan Diving Trip?
Explore our gallery of fully-customisable trips or design your own by connecting with one of our trusted Local Designers today! By using Designer Journeys to design your ultimate experience, you'll receive a hand-crafted personalised itinerary built by in-destination locals.
Where to Stay Near Sipadan
With such an illustrious underwater reputation, resorts have popped up faster than a diver out of oxygen. As such, competition is hot and finding a great deal that ticks all your boxes is easy so long as you're willing to shop around.
Staying on Sipadan Island has been prohibited since 2004 when all the resorts were forced to relocate to the surrounding islands of Mabul and Kapalai. This was done as part of conservation attempts to protect the region.
Due to the permit situation on Sipadan, it's important to note that both Mabul (12 kilometres from Sipadan) and Kapalai (10 kilometres from Sipadan) boast their own popular dive sites where micro treasures take centre stage. Muck and wreck dives also punctuate the underwater landscape of Sipadan's neighbouring islands.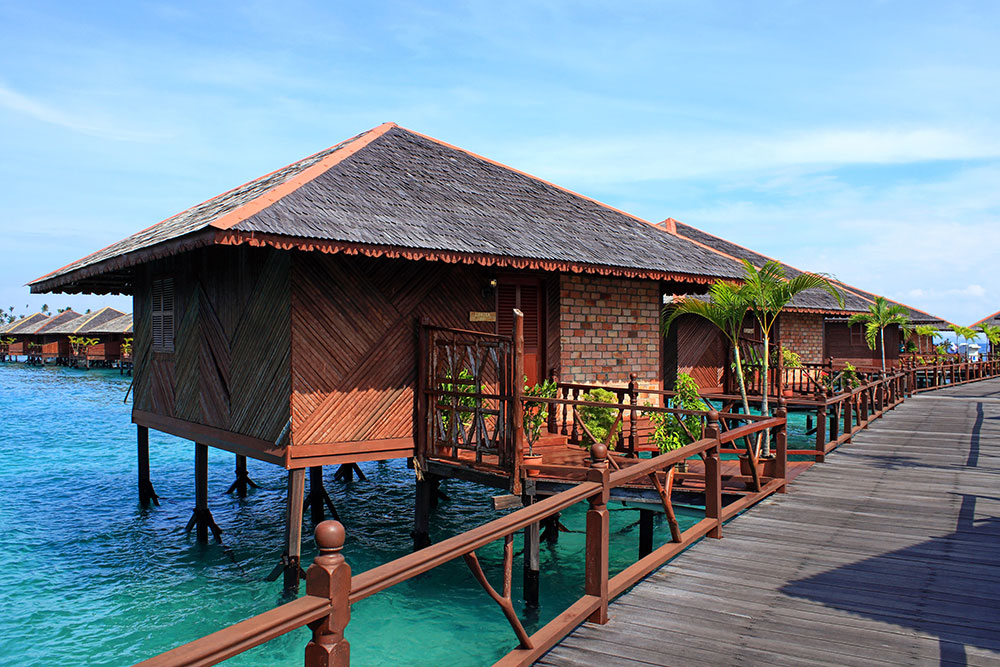 Recommended Sipadan Diving Sites
Barracuda Point
Certification Required: Advanced Open Water
Forget sharknado, Sipadan has barra-nado. Tornadoes of chevron and blacktail barracuda (thousands deep) prowl the strong current at Barracuda Point. Joining the barracudas are batfish, whitetip sharks and hammerhead sharks. Barracuda Point is often included in the top five dive universal dice spots.
Conditions: 40-metre-plus depth
Visibility: between five and 30 metres
Coral Garden
Certification Required: Open Water
Coral Garden plays host to bountiful macro life, reef sharks, turtles and Manta rays. Underwater photography is encouraged.
Conditions: 10 to 23-metre depth
Visibility: up to 30 metres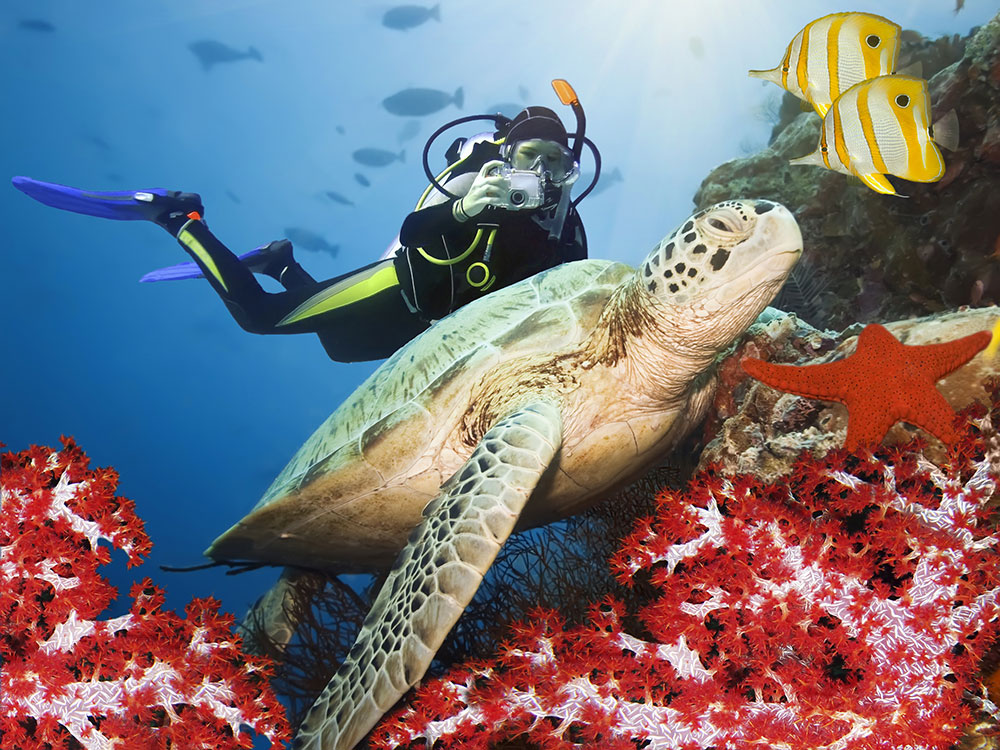 The Drop Off
Certification Required: Advanced Open Water
An awesome 600-metre-wall drop that has become one of the most popular sites around the island. All the usual suspects are here: turtles, sharks (grey and reef), barracuda and bumphead parrotfish.
Conditions: five to16-metre depth
Visibility: up to 40 metres
Hanging Gardens
Certification Required: Open Water
Hanging Gardens is a wall dive promising majestic blooms of soft coral in all the colours of the rainbow. Dusty rose, lavender and lemon coloured bunches make for a kaleidoscope of coral. Seafans and barrel sponges speckle the scenery. Free-diving and snorkelling are also popular here. Great for experienced and beginners alike.
Conditions: five to 40-metre depth
Visibility: up to 30 metres
Lobster Lair
Certification Required: Advanced Open Water
Step (or rather, dive) into the Lobster's Lair where crustaceans can be spied in all the little nooks and crannies. While you're playing 'Where's Wally – Lobster Edition' don't forget to bypass the pincers and say hello to the reef sharks and Manta rays visiting the Lair.
Conditions: 25 to 40-metre depth
Visibility: up to 30 metres
Midreef
Certification Required: Advanced Open Water
This is a vertical wall drift dive teeming with green turtles. The wall is splashed with beds of table coral, green tree coral, stony coral and cabbage coral. Frolicking amid the knotted fans and gorgonian sea fans are turtles and whitetip reef sharks.
Conditions: four to 40-metre depth
Visibility: up to 30 metres
North point
Certification Required: Advanced Open Water
Feast your eyes on marine bio-diversity to rival the best in the world at the North Point wall dive.
Conditions: 25 to 40-metre depth
Visibility: up to 30 metres
South Point
Certification Required: Advanced Open Water
There's a high chance of rare shark encounters on this deep wall dive; think deep-sea threshers and hammerhead sharks.
Conditions: 20 to 40-metre depth
Visibility: up to 30 metres
Staghorn Crest
Certification Required: Advanced Open Water
This wall dive offers perfect conditions for photography. Staghorn corals are prolific in the shallows, while a steep drop-off keeps advanced divers busy.
Conditions: 15-metre depth
Visibility: up to 30 metres
Turtle Cavern
Certification Required: Advanced Open Water
The opening of Turtle Cavern is 18m below the surface. Peruse the scenery alongside green and hawksbill turtles before exploring the turtle graveyard (Turtle Tomb). Experienced divers need only apply – this one isn't for beginners, and requires special equipment and guides for the Turtle Tomb.
Conditions: 14 to 23-metre depth
Visibility: up to 30 metres
Turtle Patch
Certification required: Open Water
Turtles abound at the Patch. Joining them are giant table corals, parrotfish and reef sharks.
Conditions: five to 12-metre depth
Visibility: up to 30 metres
Whitetip Avenue
Certification required: Open Water
Dive with friendly whitetip reef sharks, turtles and Manta Rays. The lower you go, the higher your chances of spotting sharks.
Conditions: 17 to 40-metre depth
Visibility: up to 30 metres
Get Planning Your Malaysia Dive Trip!
In the words of Jacques Cousteau, "People protect what they love." In this vein, we encourage underwater explorers to tread lightly, dive carefully and leave Sipadan cleaner than the way you found it.
Most importantly, let's get planning your diving trip!
Connect with a Local Designer to Plan Your Sipadan Diving Trip!
With Designer Journeys, planning an extraordinary trip filled with unique experiences and local insight is easy! Simply browse our gallery of Malaysia trips and then connect with a Local Designer who will design, build and deliver a trip suited to everything you could need and want!