The world-renowned Komodo National Park situated off the upper north coast of the Indonesian island of Flores in East Nusa Tenggara is easily accessible as an ideal add-on to your Bali/Lombok holiday. If you are a dedicated diver, Komodo tours should be on your bucket list!
What's Special About Komodo Tours?
The ruggedly beautiful national park is not only famed for its animal and marine life but also its dry Mediterranean climate; its mysterious topography of compacted coral islands which glow pinkish at dusk. Likewise, amongst divers, it's revered for its crystal-clear clean waters offering maximum visibility.
For sailors, it's also a bucket-list worthy favourite: its semi-arid physical splendour ideal for explorers who wish to take in the myriad of uniquely formed islands; and deserted beaches which make up Komodo National Park.
Owing to its location, Labuan Bajo is a haven for travellers from all over the world who come mostly for diving and dragons. There are numerous bars; restaurants and budget accommodation options for the younger traveller or the young at heart! The best place to eat at night buzzing evening markets where sunburnt tourists and locals sit along the foreshore of the harbour while your choice of the fresh catch is cooked with spicy sambal over an open flame; a hearty appetite worked up after a day snorkelling, diving or exploring the national park.
How to Get to Komodo National Park
Fly
From Bali or Lombok, you fly into the harbourside township of Labuan Bajo; the jumping-off point for exploring the world-renowned Komodo National Park. Labuan Bajo with its busy harbour is also the point of embarkation for both liveaboards and day trips to both Rica and Komodo Island (i.e. dragon spotting). Likewise, charters into the national park for diving, snorkelling or sailing also depart here.
All connecting flights from Bali or Lombok with Garuda or Lion Air fly into the newly upgraded airport which is primed for the region's increased tourism visibility by the Indonesian government. The township owing to its proximity to the national park has a wide range of accommodation and dining choices; as well as a bevy of local tour operators who can customise your trip per your individual requirements.
From Bali and Lombok, flights regular flights with Garuda Indonesia fly directly into Labuan Bajo with views over the Indonesian Archipelago: as you fly into Labuan Bajo you can see Komodo National Park from the air: the two main islands, both used for dragon tours, the smaller, closer Rinca Island (ideal for day trips and dragon safaris) and the eponymous larger, more distant Komodo Island also home to the Komodo dragon, other wildlife, plus numerous nearby world-renowned dive sites.
Boat
There is also the option of sailing to the Komodo National Park from Lombok on a three- or four-day liveaboard. However, be warned that many of these boats are not regularly safety checked resulting in many breakdowns en route to Komodo National Park. However, when done right, it can be a beautiful experience and a wonderful way to reach this haven.
If you like the idea of this option, make sure to book with a reputable company. Your best option is to connect with one of our trusted Local Designers in Indonesia who can organise this for you when designing your trip so that you'll be in the safest hands.
Explore our Gallery of Extraordinary Indonesia Trips!
Designer Journeys' network of incredible Local Designers will use their expert knowledge and local insight to plan your dream trip to Indonesia!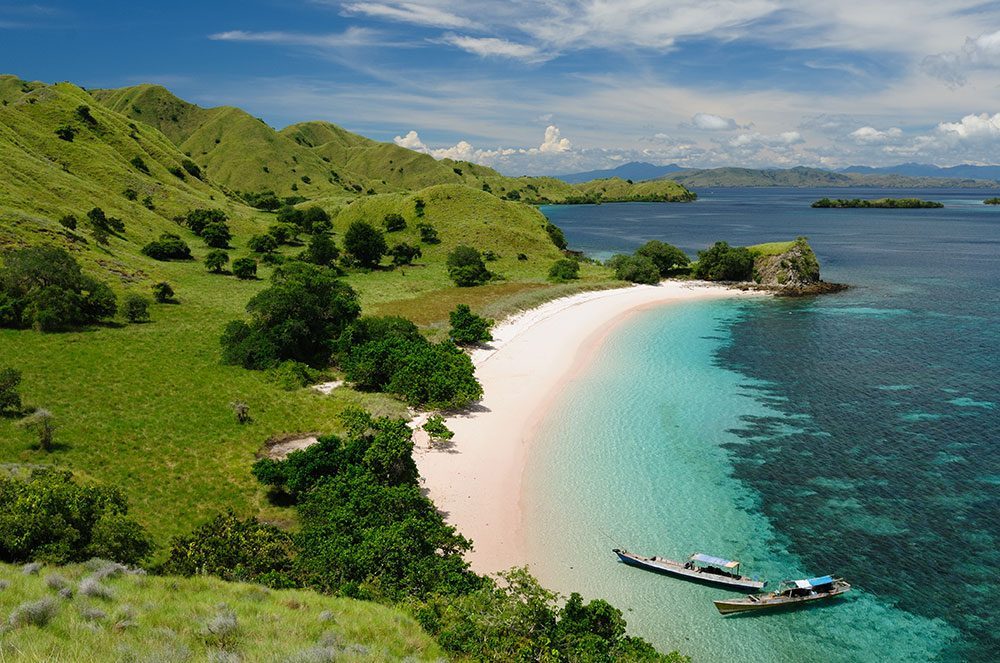 Which Komodo Tour is Best for You?
For Those Looking for Something Unique
If you are a relative newcomer to Indonesia or feel uncomfortable travelling beyond Bali or Lombok independently, you might prefer to put your holiday in the hands of a dedicated professional and let them take the stress out of planning your Komodo trip. Our Local Designers in Indonesia will seamlessly orchestrate transfers, accommodation, and daily touring. This type of tour allows you to sit back and enjoy your holiday; it's a complete service from start to finish. They meet you at the airport; escort you on your tour or dive, and drop you back at the airport.
The main benefit of these tours is their personalised service; and if you are a couple or family group, the benefit of not having to share your experience with a group of strangers. Begin designing the perfect Indonesia tour for you by browsing our gallery of Indonesia trips and then connect with one of our Local Designers in Indonesia to customise the trip to suit you!
Don't Miss Our Exclusive Offers! Subscribe Today!
For the ultimate travel inspiration, local insight straight from our expert Local Designers and exclusive offers you won't find anywhere else from Designer Journeys, sign up today! Don't miss out.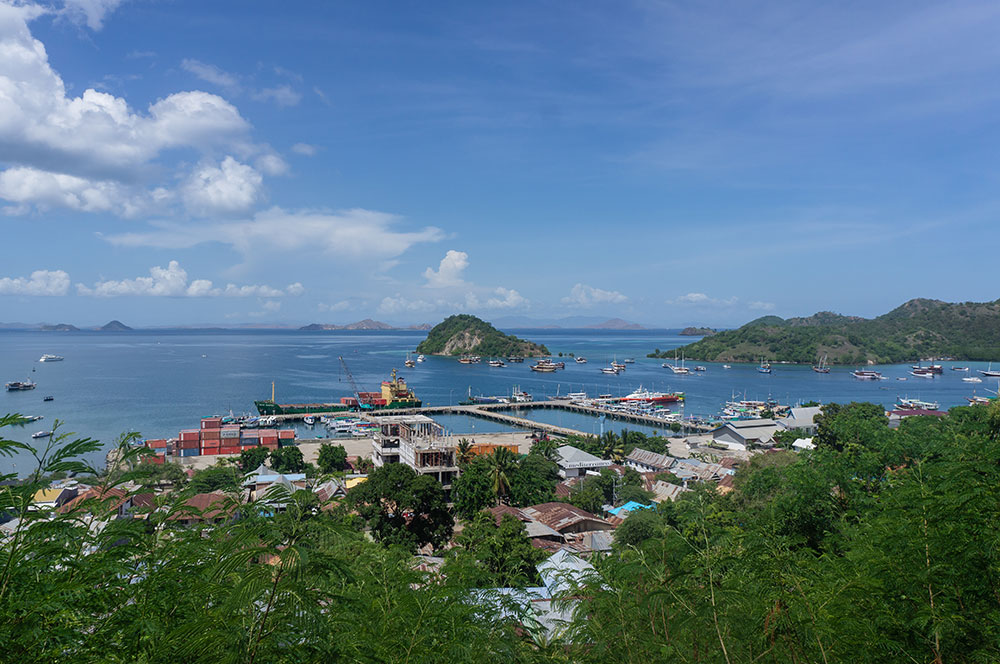 For the Independent Traveller
For the more seasoned independent traveller who feels confident organising their own activities and accommodation, it is possible to base yourself in Labuan Bajo and take advantage of the numerous local tour operators based in the region.
It's important to note that Komodo remains an emerging destination in Indonesia and Labuan Bajo does not have overall either the range or sophistication of accommodation choices of either Bali or Lombok. Remind yourself you are here for the natural environment; and the national park. Unlike other destinations in Indonesia, there is a relatively limited fine dining and spa culture compared with both Bali and Lombok. Instead, immerse yourself in the natural bounty and the authentic cultural experiences offered by this largely emerging destination in Indonesia; you will be rewarded by finding an authentic destination that is largely environmentally pristine; not overly commercialised and still largely undiscovered by a great many western tourists.
Despite the basic tourist infrastructure in the remainder of Flores, there is still a decent tourist infrastructure Labuan Bajo; both in terms of accommodation and tour enterprises developed due to its proximity to Komodo National Park. Indeed, Labuan Bajo is a fast-developing commercial hub, with a broad range of facilities available for the conscientious traveller who is prepared to do their research.
The choices of accommodation in and around Labuan Bajo are numerous and can cater to every budget and taste; including your special requirements if you're a diver. If you are an independent traveller who wants to organise their flights/accommodation yourself, it's easy to approach accommodation providers independently, but be advised, book early.
Planning a Komodo Island Tour?
Our trusted Local Designers at Designer Journeys will take your budget, requirements and interests and design your ultimate experience in Indonesia! Within 48 hours, you'll receive your personalised hand-crafted itinerary built by our Local Designers for free.
For the Budget Traveller
For those with limited time constraints or budgets, it's not difficult to find a budget bed if you do your research. Researching homestays is another great option for budget travellers; which, rather than the sometimes-impersonal bunks and dorms of rowdy hostels, give you an authentic taste of Indonesian hospitality.
For the budget traveller, it is quite possible to base yourself in Labuan Bajo and do day trips and dive excursions into the national park. For shorter trips snorkelling in the crystal-clear waters near Rinca Island is a popular choice with day-trippers with limited time or budget. Likewise, people wishing to view the dragons in a single day also generally head for the smaller, closer Rinca Island, easily accessible in a single day's trip.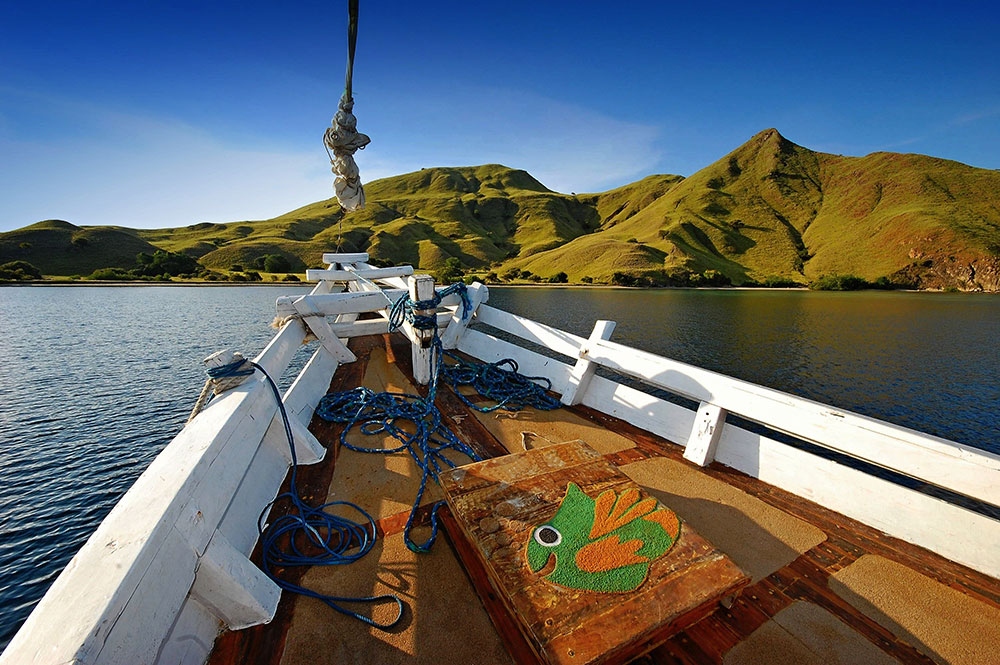 Here, Komodo dragons, lethargic, laze around ranger's huts attracted by the smell of food; accompanied by your guide you might do a short walking safari with a ranger where you take in the semi-arid island; its undulations and its nearby views; whilst trying to spot the dragons in their natural habitat.
But to fully explore the true beauty of Komodo National Park; its vastness and its reaches; it's true to say you need to venture further afield beyond Rinca Island, and this generally requires more than a single day's journey and planning.
Multi-Day Tours and Liveaboards in Komodo National Park
With an overnight or multi-day trip, you can reach more the larger distant Komodo Island; also, home to the dragons; dear; monkeys, and a plethora of other wildlife; as well as numerous world class dive sites on the peripheries of the national park, off Komodo and Rinca islands. Other highlights not to be missed are snorkelling at Manta Point or hiking and swimming at Pink Beach. The accessibility of these more distant attractions in the national park highlights the virtues of a multi-day tour.
Majestic Manta Rays glide off Manta Point in the waters near Komodo Island, and are accessible for both snorkelers with limited experience as well as dedicated divers wanting to explore the unique habitat of this marine life!
While it might be pushing it to reach these more distant destinations in a single day's trip; if you want a more relaxed pace, you can do an overnight or multi-day charter. Here, you spend one or more nights aboard a charter boat without having to backtrack to the mainland at the end of each day. This gives you the ability to cover more ground in the national park.
These overnight, two and three-night trips explore the beauty of the national park in full. Itineraries are varied and diverse and generally include all meals and non-alcoholic beverages whilst on-board: activities include diving; sailing; snorkelling; hiking and viewing wildlife ashore the islands.  All such multi-day charters can have organised directly from Labuan Bajo.
Multi-day or overnight tours generally take in Rinca on the first day and then venture further into the national park towards Komodo Island; and its surrounding attractions, Manta Point and Pink Beach.
Ready to Design Your Komodo Island Tour?
Connect with one of our Local Designers in Indonesia to plan your dream tour, whatever your style, budget or requirements – they make it possible!
For Divers and Sailors and the Discerning Luxury Traveller
It's true to say that in Komodo National Park there is just as much animal life beneath the water as above it. The marine park has long been sealed as a firm favourite dive destination for those in the know and is on many divers' international bucket lists.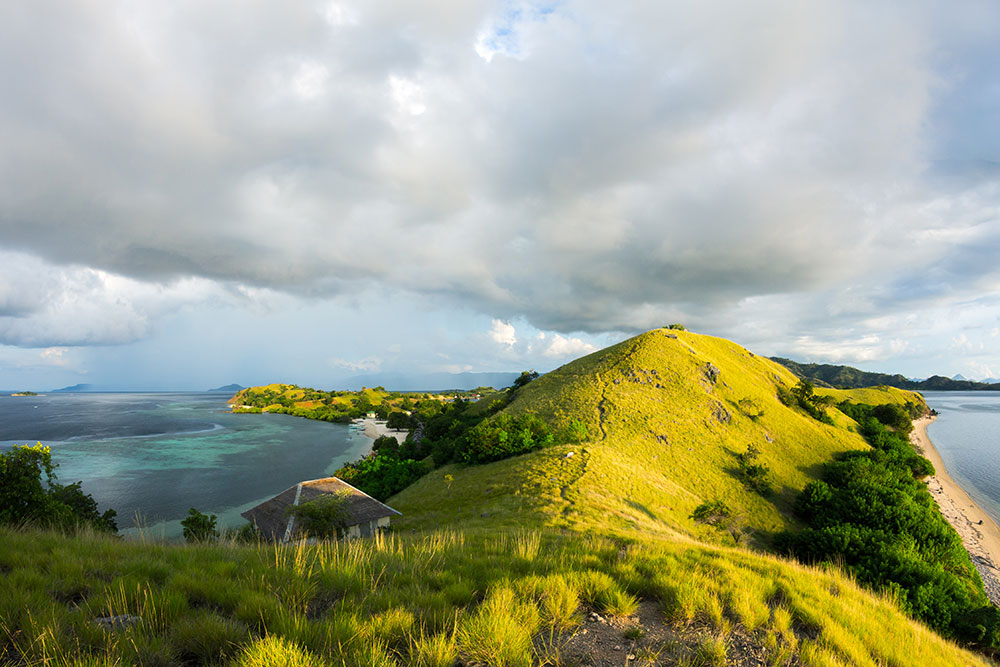 For dedicated professional divers with more resources at their disposal, many choose liveaboards, if they can pool their resources with other divers or groups of friends. Our Local Designers in Indonesia will be able to take acre of everything and organise the perfect liveaboard for you.
For luxury cruises and dedicated sailing charters for people with prior sailing experience, there are numerous choices for companies in the East-Nusa Tenggara region. You can embark on deluxe cruises ideal for group charters and unique cultural voyages to these stunning islands, but be forewarned they do not come cheaply. For dedicated sailors, there are also several yacht charter companies in Eastern Indonesia, which take in Komodo, Flores; Sulawesi and other islands in the East Nusa Tenggara archipelago; as well as sailing independently within the bounds of  Komodo National Park itself.
For people with some sailing experience who want to take in this spectacular archipelago; it is a wonderland of possibilities for the venturesome traveller who is prepared to explore this sensational group of islands independently.
Design Your Indonesia Trip with Designer Journeys!
Simply, begin by exploring our gallery of fully-customisable Indonesia tours designed by our expert Local Designers Designer Journeys' network of incredible Local Designers will take your requirements and use their expert knowledge and local insight to plan your dream trip to Indonesia!